At MEMIC, safety is the success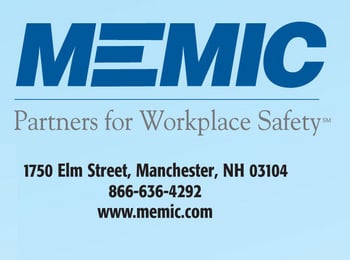 With so much bad news swirling about, one insurance company in particular is bucking the trend by growing its reach, helping its customers save money, and earning recognition for its financial strength. That company is workers' compensation insurer MEMIC.
While many in the insurance industry suffered a difficult year, MEMIC's division, based in Manchester, grew by about 20 percent in 2008. This spring, the company's strength has been recognized by the insurance industry's most respected benchmarking group with an upgrade to its rating. In April, A.M. Best announced that, after a careful review, the MEMIC Indemnity division has earned an A (Excellent) rating.
"In this environment, this is truly wonderful news for MEMIC and its customers," said MEMIC President and CEO John T. Leonard. "A.M. Best has affirmed that we've built a high-quality company that is well-capitalized and poised for even more growth. That's a message that current customers, agents, and potential customers should be delighted to hear."
The rating improvement reflects strong capitalization as well as solid operating results. MEMIC is now among the top five underwriters of workers' compensation in New England and is among the fastest-growing carriers in this line of insurance in several states.
"Some companies are seeing their ratings come under review by A.M. Best with what is called a 'negative outlook'," Leonard said. "We're headed in the opposite direction from those organizations. And that tells us that our business model is working as we envisioned it."
MEMIC's model is based on helping customers create safer workplaces by finding ways to avoid injuries to their valued employees and saving them money in the long run. Since the company's inception in Maine, MEMIC has focused on the prevention of injuries as its primary strategy.
But saying it and doing it are, of course, altogether different. MEMIC helps its customers achieve success in safety by putting its money where its mouth is. The company has developed a full staff of experts from various industries who have the practical knowledge about making workplaces safer.
Rather than recruit from the insurance industry, MEMIC attracts its safety experts, known as safety consultants, from the industries they nowserve. That means that the company's safety consultants know their way around the shop floor or the nurse's station or the restaurant kitchen.
The company uses its special COMPosition survey to determine how a company can make improvements in the four areas that are critical to a successful workers'
compensation program, including workplace conditions, human resources, medical management and workplace culture. Some insurers may focus on OSHA or other compliance-driven areas of safety and believe they have made a difference for the customer. MEMIC knows that true success includes far more than compliance, and with straightforward, practical approaches, companies can reduce injuries and create sustainable change.
Learn more about MEMIC at www.memic.com.