Amanda Grappone Osmer, 2018 Outstanding Woman in Business
Owner of Grappone Automotive Group in Bow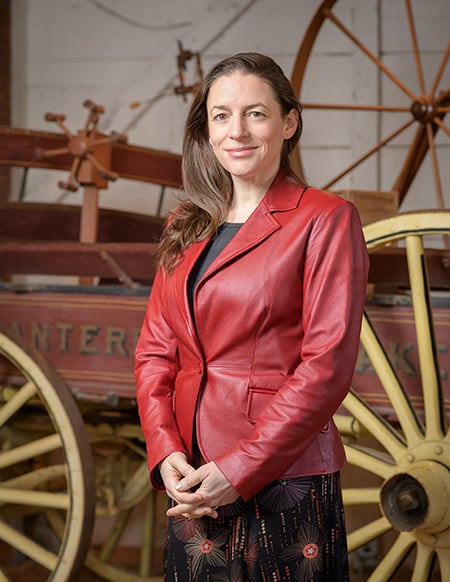 Growing up, Amanda Grappone Osmer was always aware of her family's impact on the Concord community through their business and personal involvement.
But it took some time for Amanda to decide whether she wanted to embrace the family legacy or find her own path.
In the end, she was able to do both.
Tired of the nontransparent manner in which most auto dealerships sell cars, in 2013 Amanda and her team decided to eliminate the finance department, end sales commissions and advertise final prices on every vehicle.
Grappone lost 70 percent of its sales force that summer, but the team pulled together. In 2017, Grappone experienced a sales turnover of just 10 percent, a steep drop from the national average of 73 percent.
But numbers don't tell the whole story. Amanda is proud of the holistic approach Grappone takes toward investing in its employees well-being, aligning the company's business practices with her personal values.
Q. Why are you and Grappone Auto Group so involved in the community?
A. It's the recognition you don't exist without the support of your community. It was modeled for me through my parents' engagement. They did a lot of board service. My mother was a nurse and we took in foster children. We happen to blessed with a business that generates a profit and it's written into our five-year plan that a 7.5% goes back to charity. It's a business philosophy but it's also a personal philosophy. If you're not in alignment with your own vision personally you'll be out of whack.
Q. What is a challenge you've faced and overcome?
A. My brother's illness and death was pretty earthshaking in a couple of different ways. Not only did I lose my brother but I lost my business partner and we were the fourth generation trying to set the stage for the fifth generation. It set me back in a lot of ways, personally, doing some soul searching. It took a couple of years for me to resurface. It was a very dark couple of years and when I finally emerged I felt really relieved and happy to learn that I have an abundance of resources around me, including many wonderful people.
Q. You changed the sales model to remove commission-based sales – that must have been challenging.
A. I'm really proud the team has stuck with it and the vision to stop negotiations, stop the crazy back and forth. We took away the finance departments, we stopped negotiations, but I firmly believe the way people want to be treated is this type of sales, especially with the internet, nobody's going to stand for the same pulling the wool over your eyes because now they know. I have to weigh profitability with a feeling of icky-ness and I don't want to feel icky. If  the fifth generation joins the business someday, I don't want to leave them with something completely unsustainable. There are some many dealers who mark up rates and mistreat people with bad credit and it doesn't have to be that way.
Q. In lieu of commission, how do you motivate employees?
A. I happen to believe people respond better when you can tap into their innate potential. Dr. Edward Deci at the University of Rochester co-pioneered the concept of self-determination theory. For a lot of people in our industry, we look to our fellow dealers wondering, 'Is my net to sales higher than theirs?' and it's a mark of success. I'm not strictly about numbers; they're secondary. There are a lot of things that can't be captured on a financial statement, like staff morale. Ed Deci came to visit us and he told me after he visited, 'I've used your dealerships as an example of how to apply self determination theory in the retail setting.' We take a very different approach to problem solving and even to team building. I feel like it's my life's work to help people realize the goodness in them.
Q. How do you balance everything?
A. I'm up an hour before the rest of the house, just to really be intentional about how my day is going to go. Try to imagine the things I want to accomplish. Intentionally start your day with positivity. I don't watch news. There are so many things I can't control that are negative. The first hour of your day is the rudder. It's going to set your direction.
Video by Edify Multimedia Group