Alternative energy sources can make a difference
There has never been a better opportunity for NH solar companies to sell their energy savings and environmentally friendly technology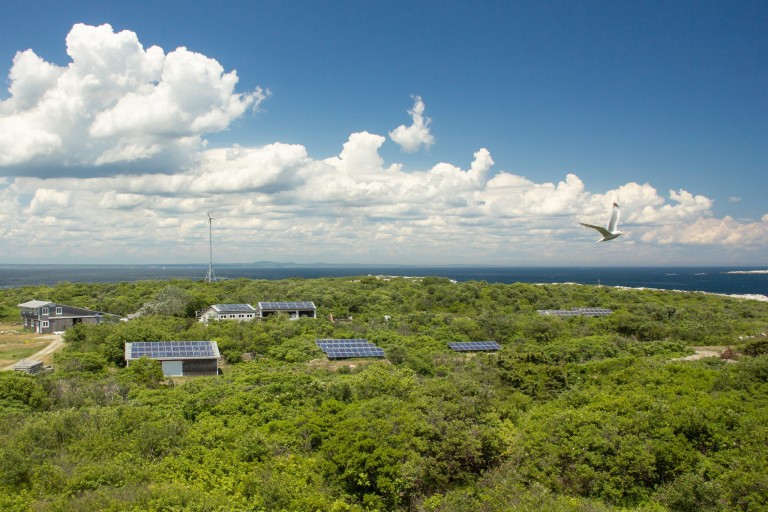 With energy prices soaring from the weight of inflation and lack of supply and demand fueled by global events like the War in Ukraine, there has never been a better opportunity for New Hampshire solar companies to sell their energy savings and environmentally friendly technology. Homeowners and business owners will continue to seek out relief wherever they can find it. New Hampshire Business Review spoke with two solar companies to gain more understanding about the factors that drive energy prices and why alternative energy sources such as solar can make a difference.
Our panel: Kevin Davis, vice president of sales, Norwich Solar, White River Junction, Vt., norwichsolar.com; and Ted Vansant, founder and president of New England Commercial Solar Services, Holderness, NH, necsolarservices.com.
Kevin Davis, Vice President of Sales, Norwich Solar
Q: What tax credits are available for alternative energy projects?
A: Renewable energy projects can see up to 50% savings and tax credits thanks to the 30% Federal Incentive Tax Credit (ITC) and MARCS Accelerated Depreciation. An expert solar developer can help customers take advantage of all the available incentives.
Q: What are the factors driving higher electricity prices in New Hampshire?
A: NH is highly dependent upon natural gas for a majority of its electric energy generation. When natural gas prices spike on the global market, as they have in 2022 for a variety of worldwide economic factors, the result is higher electricity prices here at home. Generating more in-state electricity through renewables can help to offset these costs.
Q: How much has New Hampshire invested in energy conservation, alternative energy and renewables relative to the rest of New England, and how is that affecting our electricity rates now?
A: Unfortunately, our electricity rates are higher than anywhere else in the nation, because historically NH hasn't emphasized or invested in energy conservation and renewable energy to the same degrees as our neighbors in New England.
Q: Utilities buy their power at auction every six months — how does this affect New Hampshire electric rates?
A: Because those auctions occur every six months, when they occur during a period of global inflation of energy prices and especially natural gas, the result is going to be higher electricity prices until at least the next six-month period.
Q: What can your company do to help businesses and residents save on their energy costs?
A: Norwich Solar can help any business save money on their electricity bills by switching to solar. We provide both on- and off-site solutions and have programs that can fit into any budget. We even offer zero-money-down solutions that can help businesses start saving money on their electric bills without having to invest any of their own capital.
Ted Vansant, Founder and President of New England Commercial Solar Services
Q: Why should more New Hampshire public and private schools go solar?
A: Well, there are several reasons. Solar energy generates significant energy costs savings; provides increased academic and job training opportunities; produces less greenhouse gases to combat climate change and air pollution; and provides a role model for other members of the community, especially homeowners and business owners who may be on the fence.
Q: How much money could a New Hampshire school district save if they go with solar panels for their energy needs?
A: According to a Solar Energy Industries study conducted before the pandemic, the average school solar system is about 300 kilowatts, which is 900 to 1,200 panels. Most are installed on rooftops, but there are many other models: Solar farms are being built near campuses or on shaded carports in parking lots; new buildings are being designed to be solar or net-zero-energy ready. The projects can save school districts into the millions of dollars over the projects' 25-year lifetime.
Q: Besides the money schools can save, what are some of the reasons why they should go this route in New Hampshire?
A: As I mentioned previously, we do a lot of solar projects with schools, and one of the benefits for them is that the money they don't spend on electric bills can go toward funding school programs, facility upgrades or teacher salaries. And of course, a side benefit of a public school switching to solar power is tax savings for town residents. There's also the ripple effect of students in those schools being aware of the solar project, and thus developing future interest in engineering and technical careers.
Q: What tax incentives and programs are out there to help schools and businesses go solar?
A: The recently enacted Inflation Reduction Act now allows for nonprofits, schools and municipalities to get a 30% federal grant in lieu of tax credit. This is really exciting news for any organization that in the past could not take advantage of this 30% incentive because they don't pay taxes. Also, The New Hampshire Public Utilities Commission (PUC) offers a Commercial & Industrial Solar Rebate program. This is for non-residential applicants. The maximum amount of the rebate is $10,000 per project.
Some schools and municipalities may not want to own a solar energy system. What they can do is enter into a Power Purchase Agreement. In this case, a third-party investor (which can be the solar installation company), pays for the upfront cost of installing the solar project. The school or town then pays the investor for the power generated from the solar panels each month, instead of paying for power from the grid. In many cases, the agreement will contain a purchase option clause that allows the school or town to buy the system back from the investor at a reduced price after six years of operation and then own all the solar power generated outright.