Aerospace and defense consortium steps up trade efforts
NHADEC makes inroads to European markets through Irish Defense Forces, Farnborough Aerospace Consortium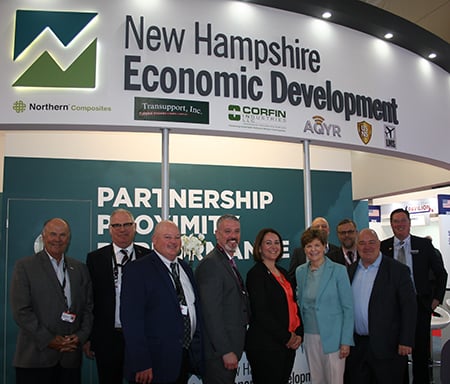 One dinner in July set in motion the potential future sale of nine helicopter engines to Pakistan by Merrimack-based Transupport.
The dinner was one of three notable meetings that produced inroads to international markets for the gas turbine and engine aircrafts supplier. Transupport also established a contact in charge of U.K. defense procurement — business the company hopes to regain after missing out on millions of dollars in contracts when the U.K. Defense Procurement Office moved its operations back from the U.S.
"So there you go, I got my U.K. connection," said Ken Foote, vice president of Transupport, reflecting on his trip, which was greatly subsidized by a federal State Trade Export Promotion, or STEP, grant, enabling him to attend the Farnborough International Airshow in England.
"For me, these shows, you talk about return on investment — sometimes it's immediate, sometimes it's the people you meet afterward that give you the connections that are the real big business," he said.
STEP funding allowed six companies to take part in a booth organized by the NH Office of International Commerce and U.S. Department of Commerce, which also helped promote the NH Aerospace and Defense Export Consortium (NHADEC), an industry-led economic development vehicle that was founded by a STEP grant.
Having signed a memorandum of understanding when NHADEC board member and Corfin Industries CEO Don Tyler attended the last show in 2016, this year, Tyler and other NHADEC members attended a luncheon with the executive leadership of the Farnborough Aerospace Consortium.
At the lunch, which was supported by the Granite State District Export Council, the groups discussed how to connect members through their online databases and video introductions, with the potential for trade missions down the line.
Tina Kasim, program manager of the state's Office of International Commerce and a NHADEC board member, said the luncheon showed NHADEC's commitment to the market and built steps to act on the deliverables of the MOU.
"It's a good indicator of opportunities that we can bring to both organizations," she said.
The show was also considered a success, including a visit by U.S. Sen. Jeanne Shaheen, whose presence attracted attention from larger original equipment manufacturers, like Bell|Textron Systems's Texas-based subsidiary, Italy's Leonardo and Boeing, said Justin Oslowski, director of the NH Export Assistance Center in Portsmouth.
Shaheen met with each of the five New Hampshire companies and one Vermont company at the Farnborough booth — Transupport, AQYR, Corfin Industries, Northern Composites, US NanoSolutions and Liquid Measurement Solutions.
"I think we're really seeing the benefits of investing in ways that help companies get into international markets," Shaheen told NH Business Review, referring to a comment by Kasim that 2017 saw the largest amount of exports in New Hampshire's history. "That's good for the economy and creates jobs."
Developing sales pipelines
Business promotion and access to government resources, including seminars or assistance in identifying suppliers, distributors and partners abroad, have been the traditional services offered to New Hampshire companies, but NHADEC is now pivoting to take on a more active sales role.
"We are now creating very specific pipelines of opportunity on a global basis for our members," said Dawn Wivell, NHADEC's executive director. "We're looking at the size of the market, how many members could benefit from these activities and very strict perimeters so we make sure we focus on opportunities that have the biggest return on investment for the largest percentage of our members."
NHADEC recently signed an agreement with Irish entrepreneur Mark Fay to create a sales pipeline to the Irish Defense Forces. Wivell and Shaheen met Fay approximately 20 years ago, when Wivell headed the state's trade center and accompanied the then-governor and several companies on a trade mission to the U.K. and Ireland.
"There's a lot of money being spent on law enforcement in Ireland," said Fay. "We are now the front line in the drugs war because all of the cocaine shipped from South America has to pass through the South Coast of Ireland to get into Europe. If there was monitoring technology, radar technology that will come through NHADEC, that is something I'd really like to push into the Irish Defense Forces and the Irish law enforcement agencies."
Fay will be briefed on NHADEC members' products and receive commission if he secures sales to the Irish Defense Forces and potentially other European military entities.
Fay argued forming a relationship with the Irish Defense Forces is a step toward access to European defense markets. And his location will allow NHADEC members to have a representative on European time to execute prompt communication.
With European countries' recommitment to NATO, it makes the region particularly attractive to aerospace and defense companies.
"All of the participating countries are working to build a plan on how they can meet their obligations for the defense spending required by NATO," said Sean Slatter, CEO of Logistics Specialists Inc., a defense consulting firm based in Utah that is a NHADEC member. "NATO is going to drive a lot of international opportunity for U.S. companies."
The Office of International Commerce is surveying NHADEC members' interest in attending MSPO, a defense trade show in Poland, next year. (A representative from the Polish embassy in attendance at NHADEC's annual meeting last year told NH Business Review the Polish aerospace industry is growing significantly. The embassy's site says the country will allocate 2 percent of its GDP, $10.1 billion, on defense spending in 2018, an increase of 6 percent from last year.)
"I have no doubt there will be an increase in [defense] spending [in Europe]," said Fay. "To get into these tenders, you're much better off being in the EU."
Domestic growth
NHADEC is also redefining its focus as a regional consortium to assist members with national defense contracts.
When NHADEC was founded in 2013, sequestration and the aftermath of the recession were driving companies to explore international markets. The Trump administration and an upturn in the economy have increased demand domestically.
"We're working on another pipeline we will announce soon that's domestic, that goes between NHADEC and the U.S. military, prime contractors and OEMs [original equipment manufacturers]," said Wivell. "Now that the budget is increasing and OEMs are doing more, it behooves us to help companies wherever they need help, domestic as well as international."
"I like what the NHADEC board is doing, where it's going," said Slatter, who has seen a lot of different initiatives through servicing his 400 clients around the world. "They started with a strategy to assist New Hampshire companies weathering sequestration and they've since evolved into a very high-functioning consortium that has so much potential."
He also pointed to the recent signing of the $717 billion John S. McCain National Defense Authorization Act for Fiscal Year 2019 — the highest U.S. defense budget in 10 years. "Companies in New Hampshire and New England should be looking at how they can capture some of this funding," he said.
NHADEC has attracted members from New York, Utah and California, and is the only U.S. consortium in the aerospace and defense industry, said Wivell.
There's active interest in a regional approach, as seen by a $1.5 million U.S. Department of Defense grant awarded in May to the six New England states.
Representatives from each state's economic development agency have been meeting to develop a plan to address industry challenges as the New England Regional Defense Industry Collaboration. The grant is being used to provide cybersecurity consulting and training to meet DOD contracting requirements and resources to help small businesses gain status as an industry trusted supplier, said Kasim.
"The industry is really important in the region … the DOD, and Office of Economic Adjustment in particular really wanted to see the New England states working together versus each state going off and getting grants for separate things," said Wivell.
NHADEC recently applied for a Small Business Administration grant for regional initiatives that would include the regional collaborative.
"It's very important we continue everything we do as a region, so I'm super excited this collaborative exists and we were supported by the collaborative in the grant proposal," Wivell said. "Hopefully we will become known as a go-to region for aerospace and defense on a global basis."