ACA's little-known 'list billing' could increase premiums of older workers
New wrinkle adds even more ACA uncertainty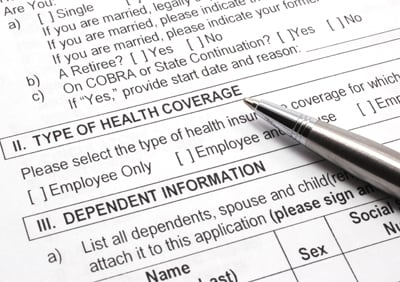 Health insurance has always cost more for older workers. But in the past, how much it costs to insure each individual employee has been hidden from the view of employers under a blended, or composite, rate. That's all about to change, thanks to a little-known provision in the Affordable Care Act that will allow employers to know exactly how much it costs to insure each employee.
It's called "list billing," and it's perhaps the most unexpected and uncomfortable consequence of the ACA that goes into effect in 2014. In New Hampshire, it will affect a lot more people than the much-publicized website troubles, canceled coverage, limited provider networks and Medicaid expansion, all of which have captured headlines.
Some 61 percent of New Hampshire's population – the highest percentage in the nation in 2011 – is insured at the workplace, according to the Kaiser Foundation's latest figures.
Few people covered though their work will have their coverage canceled. Most everybody will be able to go to the same doctor as before. And most won't have to deal with healthcare.gov.
But while the premium won't increase much as a whole (though deductibles probably will), rates could dramatically rise for older adults with larger families, if they are covered by policies that aren't renewed before New Year's Eve.
How dramatically? According to an example provided by the New Hampshire Association of Insurance Agents, a 33-year-old woman with a husband and an 8-year-old son would pay less than half the premium of a fellow employee who's a 58-year-old man with a wife three years younger and two college-aged daughters. The difference: $627.88 for the 33-year-old and $1,321.50 for the 58-year-old. Previously, they would have paid the same premium.
That means, with list billing, businesses face a new dilemma. Do they eat the cost of the older workers and face the temptation to quietly shelve those workers, thereby facing discrimination suits? Or do they pass on the costs to individuals and face workplace rancor – and perhaps litigation on that score as well?
"This is a significant and profound change," said Steve Gerlach, a lawyer with the law firm of Bernstein Shur and one of the region's foremost experts on the ACA.
Off the radar screen
Ironically, the change could have been put off in New Hampshire, but opponents of the ACA scuttled that opportunity.
"It is different if it's in your face," said Lisa Kaplan-Howe, policy director for New Hampshire Voices for Health, which on the whole supports the new law. "It raises a real concern."
While insurers will still offer a composite rate as a courtesy to employers who wish to keep the status quo, they are required to individualize each bill. In the past, employers only knew the employee's age and the size of the family. Now they'll know the age of the employee's spouse as well as any children.
And there is another reason age is accentuated. It is the only factor (aside from smoking) that health insurance companies can use for rating. The ACA forbids using experience rating, which is already off the table in New Hampshire, and neither geography nor occupation can be used in the calculation.
The move to list rating was not part of the national and local debate. It was included as an accounting measure to accurately measure risk for insurance companies under the ACA, where insurers with younger members must compensate those insurers with an elder mix.
In addition, since the ACA allows insurers to charge more for smokers, it didn't seem fair to count an employee as a nonsmoker when four family members light up, the argument goes.
Finally, it makes group policies and individual policies more comparable. "Though I don't think comparability is the rationale" behind the list billing, Graham said.
Whatever the reason, said Gerlach, this will create a more "level playing field" between the individual and small group market. It will affect rates or deductibles, particularly in the small group market, which will also be subject to bigger ups and downs as employees come and go.
So is there anything that can be done about it?
Gerlach advises employers to stick with the composite rate and try to ignore the list bill.
His reasoning: "Labor law on this issue isn't settled yet, and there might be some age discrimination consequences if this gets shifted to older employees in any way," he said.
Stephen Donohue, principal at Atlantic Benefit Company in Nashua, said he isn't quite sure either, but he said, since many smaller employers contribute a "set defined contribution" to help pay their insurance premium, he suspects they might be more likely to continue that practice — meaning that their older employees will have to pay the cost of "this radical change."
New Hampshire could have opted out of this new requirement. Indeed, the Insurance Department tried to do so in a bill that went before the previous Legislature and called for the state to conform with the ACA, but keep its own regulations as much as possible – and that would have given the agency the ability to prevent list billing.
"We wanted to avoid the shellshock," said Michael Wilkey, director of Compliance and Consumer Services at the Insurance Department.
But nobody was listening because at the time the House in particular was dominated by members who were virulently opposed to the ACA.
Ray White, who heads Bedford-based Cornerstone Benefits and Retirement Group, was a Republican senator at the time. He backed the bill, even though he was an opponent of the ACA. But the bill was gutted down to a single sentence in order for it to get by hard-line ACA opponents.
"It was all politics," White said. "It was, 'We are not going to lift a single finger to help that law.'"
'Skyrocketing' deductibles
There are other changes in the law that could affect workplace health plans, but since New Hampshire already had many of the mandates, such as bans on factoring in preexisting conditions and coverage for family members under 26, the other changes are minor.
Insurers must now include pediatric dental and eye coverage. Mental health parity might up the cost. There are limits on deductibles, but they can be waived as long as the cost of the plans coincide with comparable "metal" plans sold on the exchange: bronze (under which the insurer pays 60 percent of cost), silver (70 percent), gold (80 percent) and platinum (90 percent).
To fit into these categories, insurers are going back to coinsurance, under which the subscriber pays a percentage – after deductibles – of some procedures. Half of Harvard Pilgrim Health Care's plans offer this, said Beth Roberts, the insurer's New Hampshire-based senior vice president of regional markets. Anthem Blue Cross Blue Shield is offering some as well.
There is a hard limit but a liberal one: out-of-pocket expenses can't be more than $6,350 for an individual and $12,700 for families. More importantly though, all costs must be included, not just deductibles, and that could add up, said White.
All this hasn't had much effect on average premiums so far. Roberts said that the increases are in the single digits — the same as last year and lower than during most of the last decade.
But deductibles are "skyrocketing," said Bob Nash, president of New Hampshire Association of Insurance Agents. Nash blames the ACA, which he terms a "mess." But White said it's the result of "a political decision," an acceptable way for insurers to pass on cost increases without getting the heat.
Meanwhile, the various changes anticipated by the ACA have yet to pan out.
The group insurance marketplace, the Small Business Health Options Program, or SHOP, is not currently viable for most businesses, despite the promise of a 50 percent tax credit for companies with fewer than 25 employees. That's partly because its website functionality is in even worse shape than the highly publicized individual exchange, and partly because it offers the same limited network without the discounts offered to individuals.
The expected employer penalties that were to go into effect in 2014 for not offering affordable coverage have been put off another year. Thus the anticipated cutback in hours or employees has been put off as well.
And the number of employers dropping workplace coverage by sending employees to the exchange has been lower than expected as well, likely because of the website issues.
For instance, Steven Feinberg, a 55-year-old accountant in a small office, thought he would check out individual rates just for himself, after he found out his rates would jump 50 percent. But he kept on "hitting a brick wall" trying to get access to the individual exchange website. When he tried calling, he had to wait for a return call and the person left a message saying he would get two more tries, after which he would get a letter in the mail.
"So I'm supposed to sit there and stand by the phone and then wait for them to snail-mail me. I'm glad I'm not desperate," he said.
Lee Berard, owner of a Bedford architecture firm, is still considering subsidizing his employees' purchase of individual coverage. His business partner managed to get through on the third day and found that he was eligible for a subsidy. But so far no one has tried to enroll. And he has found few places to turn for advice.
"Everybody is learning on the fly," he said. "We seem to know more than insurance professionals."
So the main alternative to avoid the uncertainties of the new law is to renew current policies early.
"Brokers are drinking from a fire hose, trying to get renewals done before January 1st," said Roberts. Already, a fifth of Harvard Pilgrim's plans have done so.
Chris Cote, president of Core Benefits Group in Hampstead, said he expects three-quarters of his clients to renew early. But that still means a large percentage of plans will still be covered by list billing.
But Cote argued that such billing is a good thing because it reflects actual costs in the marketplace. On the other hand, he said, "this is going to be very disruptive. There is no doubt about it."