Abstract sculptures have been objects of discussion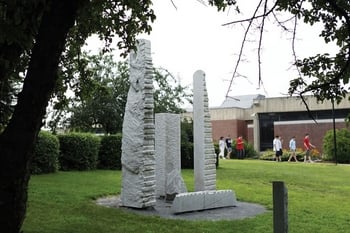 NASHUA – Artist John Weidman is perplexed about the criticism a colleague's sculpture received because some viewers thought it resembled a butt.
"I've gotten a lot of positive comments" on the piece, Weidman said. "Some people can't understand why James Gannon's work is offensive to (its critics). They can't understand that at all."
Irish artist Gannon's granite sculpture, titled "Birth of Venus," was created last year during the first of the city's two international sculpture symposiums. The second symposium was held this past spring.
Between the two events, nine abstract works were produced. So far, eight have been installed at various sites around the city.
"Birth of Venus" was intended to show waves washing up on the shores at the four corners of the Earth, said Weidman, director of the Andres Institute in Brookline and a sculptor who organized the symposium along with local arts patron Meri Goyette with the support of the city Community Development department.
The symposiums were funded through private donations. The city helped install the sculptures and provided other support.
For the first symposium, the city contributed $1,000 out of an account to support various arts and entertainment organizations.
For the second, the symposium received $1,500 in federal grant money through the city.
Also, the symposiums received a $5,000 contribution from the Nashua Charitable Foundation, Goyette said.
A committee formed of local arts supporters and headed by Kathy Hersh, the city's community development director, helped pick where the sculptures would be located. The city school board, library trustees, mayor, and public works and parks and recreation officials also assisted in the process.
Some residents of French Hill, where "Birth of Venus" was placed, saw something other than waves in Gannon's work. When the city fielded a number of complaints, officials agreed to move the sculpture to an isolated area near Centennial Pool off Amherst Street.
Weidman's first of two sculptures created at the symposiums also has generated its share of detractors. His metal sculpture, titled "Monument to Memory," has suggested to some viewers an image of a rusty clothespin or a part of the male anatomy.
It has been seated in the South Main Street roundabout near Rivier College.
"Our memories have lumps and bumps and our lives have lumps and bumps," Weidman said, describing his inspiration for the sculpture.
Those scars are carried with us as we move through life, he said, adding, "Every day is a new beginning."
The sculpture includes contrasts of straight lines and curves, a style that Weidman uses often and which he sees reflected in nature.
The rusted appearance is because of an alloy of copper, nickel, steel and other metals that gives the sculpture the look of a nearby guardrail, he said.
"It's a very earthy kind of look. It will darken with maturity," Weidman said.
"I've heard it compared to a clothespin. That's cool, too. I've also heard it compared to a penis. I don't know what the girl was looking at before, but that's her problem.
"It's a very simple form related to memory. If somebody wants to remember a clothespin, that's fine."
He added that art is meant for people to interact with, and it's OK if that interaction is negative.
"I do not ever want to control people's minds," Weidman said. "I respect that wholeheartedly because it's their planet, too."
While "Birth of Venus" and "Monument to Memory" have generated the most discussion, and controversy, six other sculptures were placed more quietly at various spots around the city.
Here is a list of the other sculptures produced at the symposiums, where they're located and a description of each:
"Frida Rota," an 8-foot-tall granite sculpture by Tomas Oliva, was installed near the intersection of Temple and Court streets on a city-owned brick sidewalk adjacent to the Indian Head Plaza.
Oliva's sculpture shows a broken figure of a woman, as if the image is struggling to emerge from ruin.
The work was inspired by Mexican painter Frida Kahlo, said Oliva, a native of Cuba who now lives in Seattle.
When he was 13, Oliva saw one of Kahlo's paintings at a museum in Havana, he said in an interview before the dedication. He became inspired by her story of persevering through physical hardships, Oliva said.
"I'm just dignifying the experience and perseverance of a woman determined to get through no matter what," Oliva said.
Oliva said the work also is a way to thank the community for its hospitality during his stay in the area.
"I tried to give the best I could to the community," he said.
"For Frank Lloyd Wright" by Vaclav Fiala, of the Czech Republic, is on the front lawn at Elm Street Middle School.
Teachers at the school have used the granite and metal sculpture to launch classroom discussions of art in general and the American architect who inspired Fiala's work.
"Moon Shadow" by Mai Thi Thu Van, of Vietnam, was placed at the Nashua Public Library. Thi Thu Van is a faculty member of Hanoi Fine Arts University. Her work appears in her home country as well as in Korea, Canada and the United States.
Her abstract forms are expressed through metal, fire, wood, water and earth in nature.
"I love nature, and I always want to show my love for the full moon in my creations," she said.
Three sculptures have been located in the city's newest park, Rotary Common. The park is on the west side of Main Street across from the former Globe Plaza.
"Steps of Respect" by Michele Golia, of Italy, is the first. Golia works in terracotta, marble and iron, with works displayed in private collections in Europe, Canada, Hong Kong, U.S., Japan and Australia.
Golia gained experience in his grandfather's workshop, which opened in 1920 with his grandfather's art. His workshop is located in an ancient building in the historic center of Orvieto. Golia holds seminars in Monza and Milan.
"Encounter," by Bulgarian artist Luben Boykov, consists of about 700 foot-long twigs cast in bronze and welded together to form two life-size human figures.
"The process began by making body casts of two (clothed) local teenagers, male and female," Boykov wrote.
"The molds were then further modified and sculpted. Simultaneous to this, I collected small branches from trees in Nashua and made a pattern of 12 twigs for sand casting.
"The pattern was to be used in multiple bronze pours at the Bronzecraft foundry in order to come up with the desired number of bronze twigs. I took the rough bronzes and finished each stick individually by removing the excess material at the parting line of the casting."
Bronzecraft donated the bronze for the piece, Hersh said.
"Once all pieces were finished, I started to bend and shape them to the contours of the bodies inside the molds and to weld them together until the entire mold was covered," Boykov wrote.
"Stainless steel rods were embedded into the lower legs in order to provide additional strength and to fasten the sculptures onto the granite columns."
Weidman helped in both the design and execution of the 8-1/2-foot granite pillars, Boykov wrote.
Also at Rotary Common is "Path of Universal Truth" by Israeli artist Sarah Mae Wasserstrum.
"I imagine humanity as if comprised of layers. Some layers are thicker, some more modest, all piled from the past to future," Wasserstrum wrote.
"This sculpture is but a segment of this image. It starts from within the earth holding our ancestors' layers within. Some are here now. The future is to be imagined climbing to the sky.
"Through us all runs a common denominator, touching us all. We have the ability to grow through this universal truth. May we do our best."
The one sculpture from the second symposium that hasn't yet been installed is "Ancient Future (time as a place)" by Weidman.
The sculpture is made of granite quarried in Milford and stands 14 feet high, Weidman said.