A burgeoning robotics industry makes a home in N.H.
Robotics companies are clustering in a corridor that stretches from Boston to Manchester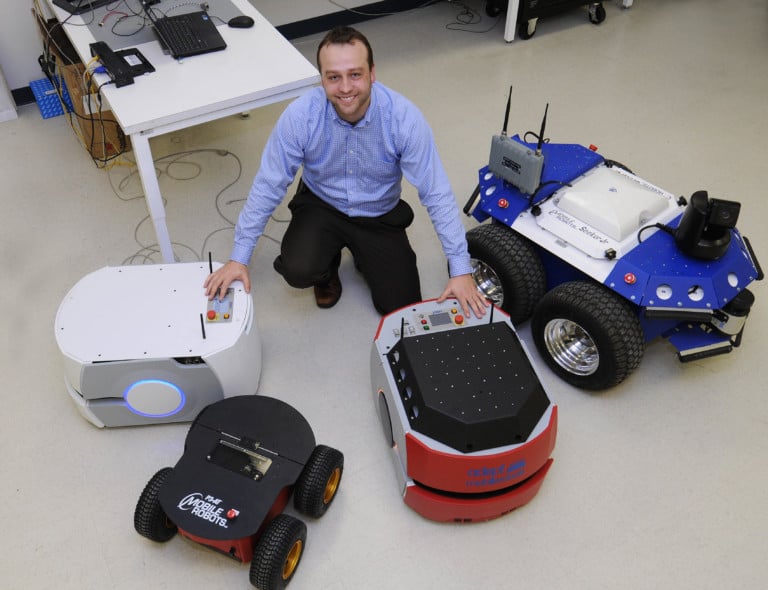 Cookey is no R2-D2. In fact, the robot looks like a big modern canister vacuum cleaner with a tray on top. But it doesn't do any cleaning. Instead, it delivers things.
In some cases, it serves as a guide. A newer prototype even showed a reporter to the bathroom at Adept MobileRobots in Amherst, stopping suddenly when he appeared in front of it, veering out of the way as he slowly approached. But Cookey was a little confused, since it hasn't fully mapped the Amherst facility yet.
"He thinks he's in Denver," said Julian Ware, Adept's business manager.
Denver is the headquarters of Swisslog, a large customer of Adept, which helps companies with warehouse and medical facility logistics. Cookey appears to work in the office there. The robot's buttons display its major stops: front desk, payroll, conference room, finance and "Barbara." Push the button, and that's where Cookey goes, no human intervention needed.
Nearby at the Adept facility stands a Seekur robot, a four omni-wheeled rectangular hulk, that sometimes patrols industrial facilities. In the next room, a robotic arm is playing pickup sticks, putting scattered little test tubes neatly onto a conveyer belt.
"There are more robots than people here today," said Ware.
Perhaps that's what the future has in store, a future paved by companies like Adept and others that have clustered in a corridor that stretches from Boston to Manchester — a corridor of companies that form the spine of the burgeoning robotics industry in the Granite State.
There are companies like VGo Communications in Nashua, which builds robots that homebound kids can "drive" through school hallways to attend different classes remotely, or Segway in Bedford, which uses the famed personal transporter as a robotic platform, or DEKA Research in Manchester, which is developing an artificial arm that can be controlled by a foot.
There's also Dean Kamen, the Segway inventor and entrepreneur who founded both DEKA Research and the Manchester-based organization FIRST, For Inspiration and Recognition of Science and Technology, which for almost 25 years has fostered high school robotics competitions across the nation. Not to mention Intelitek, also in Manchester, which supplies kits to build those competition robots.
"Companies haven't come out of that, but a lot of engineers have," said VGo co-founder Thomas Ryden. "And a lot companies are based here around the talent here. We are."
The interest is clear in the southern tier of New Hampshire, where 29 FIRST teams took part in the robotics competition. Vermont had three, Maine had 14, and Massachusetts – a state with more than five times the population of New Hampshire – had 57.
"Everybody loves robots," said Mike Sousa, who two years ago founded the New Hampshire IEEE Robotics and Automation Society chapter. It's already the size of the Boston chapter, which has been around for two decades, he said. "Robots are sexy," explained Sousa, who develops self-driving cars for auto manufacturers at XCube Research, a Nashua company.
Genesis of the industry
A lot of the development of robots is occurring along Interstate 93 in Massachusetts. Companies there include Kiva Systems LLC, a subsidiary of Amazon, in North Reading; Black-I Robotics in Tyngsboro; Rethink Robotics in Boston; Boston Dynamics in Waltham; and, of course, iRobot of Bedford, which was founded back in 1990.
An iRobot PackBot searched the rubble after the September 11th terrorist attacks. The company's biggest contracts are with the military, but most people became award of the firm through its Roomba, a robot that vacuums floors.
The company has sold more than eight million robots since it went public in 2005. Last year, the company had $436 million in sales.
Both Adept and VGo can trace their history to iRobot, but, said Maynard, the genesis of the industry goes back to the high-tech boom of the 1980s.
"The companies have left, but all of the people are here," said Maynard. "They are the parents of the new people moving up in the industry."
"Massachusetts is the hub. New Hampshire is the extension, but I'd rather live in New Hampshire," said Chris Crimmins, a robotics applications and sales engineer at Segway.
There are other robotics companies, programs and organizations scattered in other regions of New Hampshire.
There's Mikrolar in Hampton, which makes hexapod robots that look like little stools with six robotic arms that move independently and grip things, like a steel octopus, and move them.
The University of New Hampshire has a strong robotics club, but not a department. And when NERVE (the New England Robotics Validation and Experimentation center) officially opened its robot obstacle course in February, it was at the University of Massachusetts at Lowell.
Dartmouth College in Hanover also doesn't have a robotics department either, but Cool Robot was developed there. It's a solar-powered robot built to explore the South Pole during the long summers.
Withstanding the temperatures isn't the hard part, said Laura Ray, a professor at Dartmouth's Thayer School of Engineering — after all, robots have long been able to operate in places like Mars under even worse conditions. Being lightweight and intelligent enough to avoid deadly gaps in the ice masked by a thin layer of snow is the real challenge.
Ray couldn't name a robotics company in the Upper Valley, but VGo's Ryden can rattle off a half-dozen that are located within a half-hour of Nashua.
VGo robots are shaped like an upright vacuum, with its bottom linked by two slender white tubes to a small display where a face might be. That's where the image of the operator's face appears, while the operator himself is at a laptop across the room, or on the other side of the world, seeing what VGo sees, and moving the robot with his keyboard.
Doctors and nurses use the VGo robot at $6,000 to $8,000 apiece to make house calls without going to the house — zooming in on a wound, for example, and instructing the patient how to change the dressing correctly. Disabled students use the robot to attend classes, navigating between desks, or turning to classmates to ask them to carry him up the stairs or "raising his hand" via a flashing light to answer the teacher's question.
Ryden's company – which employs 15 – just started selling the robots last year. He won't release sales figures, but said it is easier to make money because the prices of components are dropping.
"Sensors have come down dramatically," he said.
'Really booming'
There is money to be made in this business. Adept, which is based in California, acquired MobileRobots Inc. in June 2010 for about $4.5 million in stock and cash. At the time, MobileRobots generated about $4 million in revenues.
While Adept doesn't break out figures by unit, MobileRobots was mainly responsible for the company's 28 percent boost in U.S. revenue in 2012. Altogether, the company had $66 million of sales in 2012. It employs 183, including about 20 in Amherst.
MobileRobots primarily provides the platforms for other robot manufacturers.
"All the really cool stuff is up to the customers," said Ware, as he shows a "Tots on Bots" video that features a disabled toddler who sits atop a MobileRobots platform at an Ithaca College lab, giving it commands by simply lunging.
That's a similar business model used by Segway, which in 2003 started using the transporter developed by Kamen as a robotic platform for other companies, though the company is starting to develop customized robots of its own.
Uses vary. Some, like mobile mannequins, are good for target practice, scattering at the first shot. Others carry water cannons near fires where the heat is too much for humans.
Segway's ARTI (two Segway platforms attached by a flexible connection) is used to lug military equipment. Each platform knows what the other is doing, allowing it to make sharp turns in very rough terrain. Some are equipped with a special wheel that enables the platform to move in any direction, without the wheels actually changing directions.
Kamen sold Segway, but continued his often groundbreaking research at DEKA, in the Manchester Millyard. While many people might not consider a prosthetic arm a robot, Luke (named after Luke Skywalker of "Star Wars") has up to 10 degrees of freedom, as opposed to two or three, meaning the arm has to be intelligent as well as give the owner tactile feedback.
"We have people use it pick up an egg, put it down and then pick up a gallon of milk," said Stewart Coulter, DEKA's project manager. The company is developing several methods to manipulate Luke, but so far the most promising appears to be foot controls.
DEKA's iBOT is a wheelchair that can stand up on two rear wheels, bring the user to eye level, and even use the balancing system developed for the Segway to enable it to climb stairs. Unlike a Segway transporter, the user controls the iBOT by joystick. Is this a robot? It depends on how you define it.
"A robot is a particularly advanced tool, that senses the environment and has a certain intelligence," Coulter said.
Meanwhile, Kamen's FIRST has spurred robot competitions nationwide. Intelitek, a Manchester subsidiary of RoboGroup – an Israeli company with $45 million in sales in 2012 – supplies some of them. But Intelitek – which employs about 25 – also supplies robots and do-it-yourself kits to clubs and high schools through other organizations like SkillsUSA and the Robotics Education and Competition Foundation to high schools.
Sales in New Hampshire have been particularly strong, up 50 percent in the last year. Intelitek used to mainly sell machining equipment to schools, but robot sales now account for 65 percent of its business, up from 15 percent a decade ago.
"It's booming, really booming," said Elizabeth Klingseisen, vice president of marketing for Intelitek. Kids are "really jazzed up when it comes to robotics."