12 weeks of collaboration
Pitching growth strategies and making new friends at 10kSB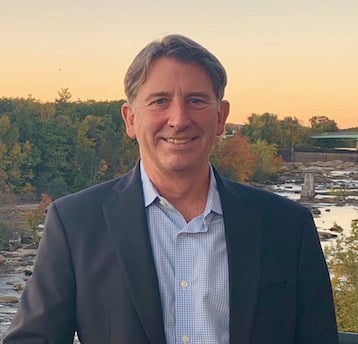 From May 15 to 19, 37 New Hampshire small business owners came together to practice, finalize and pitch growth strategies to each other. These four days were the culmination of our work through the Goldman Sachs 10,000 Small Businesses program (10kSB).
The 12-week program uses curriculum developed by Babson College that is delivered by the Community College System of New Hampshire to help guide small business owners on a systematic pathway for growth.
All of the work — including writing a detailed growth plan, working through presentations, webinars, spreadsheets, research and hundreds of conversations with colleagues and staff — was boiled down to three slides presented over three minutes.
The geographic and product/service diversity of this first New Hampshire Goldman Sachs group is wide. Products ranged from pretzels and beer to t-shirts and maps. Services included wedding events, interior design and tokenizing data. The 37 growth plans would double many of these small businesses while creating new jobs and upskilling opportunities.
The program was fast-moving, challenging and rewarding. The bonding and collaboration of 37 people from vastly different businesses was significant. The program design fosters it, and those final four days demonstrated that this well-thought-out model works. The honest, relevant feedback provided throughout the course of the program was highly informative and all of us are leaving as 10kSB alumni with new peers that have deep knowledge of our business and future plans. This is a rich network that will undoubtedly be tapped on a regular basis.
Over the four-day retreat, we dove in to human resources, operations, negotiations, advocacy, exit-planning, networking and honing the growth plan and pitch.
To back up a step, the growth plans we all developed included sections based on 14 core modules of the 10kSB program. This resulted in plans ranging from 20 to 50 pages that needed to be summarized in three minutes. The three slides included company background, key growth plan points, critical success factors and key next steps. This was a huge challenge.
Our smaller growth groups of six people and the business advisors assigned to each growth group helped us hone the presentations. As a result, they improved dramatically when presented to the full group. They were powerful and included a lot of personal testimony that demonstrated the participants' passion for growth — be it to solve a societal problem, enhance a family business or demonstrate entrepreneurship by launching a new product or service.
The honesty of the participants was impressive, and the support people received from others was powerful. Some final comments highlighted the camaraderie of the participants that is hard to find and nurture. Another comment noted that there was a strong sense of kinship and belief in one another. One participant said she went into the program thinking she was ready to lock the door and walk away from her business, but now she wants to grow it.
The final word from one participant was that "this was the best thing I have done in my life and in the life of my business."
In summary, we had 37 participants. This is us: Adam Carey, the NLS Group; Kasia Lojko, All Real Meals; Dylan Cruess, TFMoran; Peter Stoddard, S&H Land Services; Bobbi Lambert-Lynds, North Country Medical Courier Services; Dagan Migirdith, Liars Bench Beer Co.; Daniel Guide, Freedom Tire; Pamela Provencher, Granite State Escape; Theresa DeChiaro, TSD Interiors; Katy Ward, Aries Engineering; Steve Jackson, Country Cupboard Candies; Nick Brattan, New England Document Systems; Josh Velasquez, Nuttin Ordinary; Mary Kling, Wendi's Cleaning Service; Toutou Marsden, Dell-Lea Weddings & Events; Lisa Flynn, ChildLight Yoga; Chris Brown, Rescon Basement Solutions; Rae Andrews, Squam Lake Marketplace; Kathy Meader, Green Acres; Holly Daigle, Holly's Kona Ice; Suzanne Foley, Port City Pretzels; Matt Cookson, Cookson Communications; Valerie Piedmont, Green Energy Options; Jamie Pauley, Simply Sunflowers; Janette Desmond, Sunrise Sweets/Kilwins; Sean Kline, Turbotek; Balaji Radakrishnan, DeeBeCon; Elizabeth Alpaugh-Cote, Auric Systems International; Tina Smrkovski, Reed Optical; Katie Fitzpatrick, Dance Innovation Dance Center; David West, Liebl Printing; Tim Pipp, Beez Tees Screen Printing; Rose Padfield, Paul's Executive Car Care; and North Sturtevant, JSA Inc. Architects.
We got out of our businesses to get into them and met new friends and colleagues in the process who want to help us through the next chapter of small business ownership. It was invaluable.
Matt Cookson is president and CEO of Cookson Communications in Manchester.