Youngest mayor has eye on the future and prosperity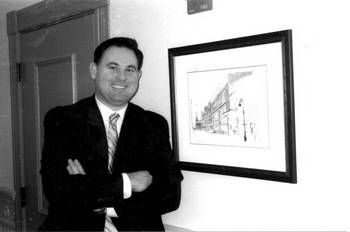 Frank Guinta is the 47th mayor of Manchester and, at age 35, one of its youngest. A relative newcomer to the city, Guinta is a native of Edison, N.J., and a graduate of Assumption College in Worcester, Mass. He earned a master's degree in intellectual property at Franklin Pierce Law Center in Concord and worked in the insurance and consulting industries before going to work full time for U.S. Rep. Jeb Bradley, R-2nd District.
He was elected to two terms in the state House of Representatives and was in his second term as the city's Ward 3 alderman when he upset three-term Mayor Bob Baines in the 2005 election. He lives with his wife Morgan, a marketing manager at Segway Inc., and their two children in one of the Amoskeag Row Houses in the Manchester Millyard.
---
Q. The conventional wisdom was that it was premature for someone 35 years old who had been here just seven years to run for mayor. Do you feel you've confounded your critics on that score?
A. I think that the people were looking more about issues and not about length of time that I've lived in Manchester. I appreciate that and I'm glad that issues won out.
Q. What were the overriding issues in your campaign?
A. I said after six years of tax hikes, it was time for cutting taxes.
Q. Did you say how much?
A. No, I was pretty general, but I did put forward a budget— I believe it was May 17 — that called for a 1 percent tax cut.
Q. What was it you proposed to do about crime?
A. I proposed two things. First of all, adding 10 police officers, and the other was implementing COMPSAT, which is a crime data tracking system. What we need to do is identify the places that are at the highest risk in the city to the possibility of criminal activity and put more police officers there. That alone is a deterrent.
Q. On the issue of schools, have you proposed hiring more teachers?
A. What I talked about is accountability and having a programmatic audit, a complete review of every expenditure, and trying to determine how we allocate our funds.
You can't, I think, just look at seat time and assume that the fully traditional way of teaching is the only way to teach. There are other alternatives and the rules at the state level have been changed to allow some flexibility in how we teach our children.
Q. What are some of those alternative methods?
A.Until recently, the only way you could get credit for physical education was by going to gym class. Now in the city of Manchester you can get phys ed credits by going to soccer practice or going to football practice.
Can you get credits if you play an instrument down at Ted Herbert's (Music Mart)? Should we talk about that? You've got to find a mechanism to ensure that the child is learning and having the daily progress that's expected of a child.
I think we need to start having a discussion in the city about how we can utilize the resources that we have in our community to maximize the tax dollars that are put into play.
Q. What do you think of Governor Lynch's proposal to increase the age at which a student may drop out from 16 to 18?
A. The problem really begins in the early learning stages. That's why I'm visiting all the schools at every level. I go into an elementary school and I see some of the challenges.
You know people talk about New Hampshire as the state with first-in-the-nation primary and say it doesn't have diversity. You go into Beech Street School downtown and tell me if we're not diverse. We're probably more diverse than some schools in Boston. Because we're a refugee resettlement center, because we're the largest city in the state, we've got 70-plus languages that are spoken. But they're teaching kids how to read at that age. If you're not addressing the problems that a child is having at that age, it becomes increasingly difficult to deal with those problems at the 10th, 11th or 12th grade…
One of things that's starting to come up is "Hey, kids leave school at 2 o'clock." Let's talk about ways to keep kids in school longer, so we have a greater ability to capture their minds and teach. Those are things that I think we need to start talking about.
Q. So you can add 10 policemen, improve schools and still cut taxes?
A.I believe we can. And the budget that I presented in May of 2005 is, I think, a prime example of it. I added the 10 officers. We added almost 20 teachers and a lot of it is the requirements of the federal government as a result of No Child Left Behind. And we cut taxes. It was a 1 percent tax cut.
Q. One of the things you said in your campaign is that you want to more aggressively pursue economic development. What did you mean by that?
A. We didn't have a relationship with DRED, the state's economic development agency.
One of the first things I did was meet with (outgoing Department of Resources and Economic Development Commissioner) Sean O'Kane and said, "What do we need to do to partner with you? When companies are calling you, I want you to know that Manchester is now in the bid."
So first and foremost, it's collaboration with DRED and with the commissioner, but secondly, let's start marketing the advantages that New Hampshire has. If you look at taxes, we're the third lowest, I think, state in the country. We also have some of the entertainment venues that CEOs want. But also if you ask CEOs what are the advantages of Manchester that they like, they'll say you can land at the airport, get in the car and within 10 minutes be at your business meeting in the city.
So we've got the travel component. Then you also have the quality of life that Manchester provides and the state provides. And when I sit down with CEOs of companies, say in Massachusetts, in the 495 beltway, and I say the cost of doing business per employee in Manchester, depending on the sector, is anywhere from $2,500 to almost $5,000 less, that's a significant enticement, I think, to bring someone to Manchester.
Q. Haven't mayors of Manchester done that in the past?
A. I think every mayor has different challenges and different sets of circumstances. I think Mayor Baines focused on education and a $105 million renovation of the schools. When people think of Ray Wieczorek, they think of the Verizon (Wireless Arena). With me, it's also about building this city for the future and making it very prosperous.
One of the things you have to do is diversify your business base. So now I think the city is ripe to go out and market itself and get those companies and bring them here.
Q. You could conceivably tie or exceed Mayor Josaphat Benoit's record of 18 years as mayor and still leave office at early middle age. How long would you like to be here?
A. I want to be here as long the people think I'm doing a good job. Right now I've got 24 months and I'm going to focus on the things I promised I would do. And I also hope in that period of time to change how we budget, bring in a biennial budget, and strengthen the efficiencies in government that I see and know can happen. And then time will tell.
I will do it as long as the people think I'm deserving of it and they think I'm doing a good job.