Years take a toll on state's 4-H Camps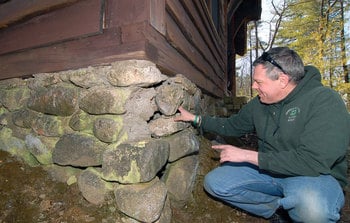 Joe Davis was 8 the first time he attended 4-H Camp in New Hampshire. Now 36 and an arborist for Bartlett Tree Experts in Hooksett, Davis is reminded every day, as he talks with people about the care and preservation of trees, of how that experience touched his life.
"4-H definitely made me who I am today," said Davis whose original introduction to forestry was through 4-H. "It's just a super organization and one that every child should have the chance to experience."
New Hampshire's 4-H Camp also left its mark on the lives of Michael and Catherine Aldrich, who met at the age of 13 at Bear Hill 4-H Camp in Allenstown and married 19 years later. The couple now sends their own children to Allenstown each summer so they too can experience what 4-H Camp has to offer.
"I have very fond memories of 4-H Camp. I loved the counselors, swimming, learning about nature, everything." Michael Aldrich said. "So when the time came for our own children to go to summer camp we knew 4-H would be the perfect place."
Stories like these are what New Hampshire 4-H Camps manager Chris Conlon said "keeps me rolling up my sleeves."
"We know the camp experience can change kids' lives forever," Conlon said during a recent visit to 4-H headquarters on the campus of the University of New Hampshire in Durham. "We want to be able to continue to provide kids with these experiences."
Especially known for its nature and agricultural programs and recognized by its four-leafed clover, 4-H has built a reputation for youth educational programs built on a foundation of "Head," "Heart," "Hands" and "Health."
According to Conlon, 70,000 children have taken part in New Hampshire's 4-H Camp since the early 1930s, most attending Bear Hill Camp in Allenstown, where they spend their days swimming, canoeing, hiking, learning about nature and taking part in arts and crafts activities.
Recent studies indicate 4-H Campers come away with improved self-esteem, stronger interpersonal skills and numerous life-skills, including responsibility and goal setting.
A product of President Roosevelt's New Deal, Bear Hill 4-H Camp was built in the 1930s by World War I veterans and workers through the federal Works Progress Administration and is now showing its age.
"We have a 70-year-old facility in need of some attention," said Conlon, who is hoping to raise $60,000 for capital improvements at Bear Hill 4-H Camp. "We've worked hard to make this an affordable experience for all children with our fees lagging behind costs. We're hoping businesses and individuals will recognize the important role this camp plays and will help out by making donations or helping us with needed repairs so that we can continue to put our efforts into providing for these kids."
The larger of two 4-H Camps in New Hampshire, Bear Hill consists of 55 buildings located on 180 acres inside Bear Brook State Park in Allenstown.
Barry Conservation Camp, the second 4-H Camp, is located on the property of the state's fish hatchery in Berlin and run in conjunction with the New Hampshire Department of Fish and Game. This smaller camp offers programs in fishing, advanced shooting sports, hunter safety and camping.
Although different in their focus, both camps offer programs for kids between the ages of 6 and 16.
In need of repair
At Bear Hill, the need for repair work is apparent everywhere, from eroding foundations to leaking rooftops, according to Conlon.
A recent lightning strike took its toll on the wiring system, rendering the camp's walk-in cooler and pump house alternator useless.
"We're taking care of things, and everything is certainly safe but that's meant having to serve fewer kids this year," Conlon said.
Current maintenance costs are in part to blame for this year's anticipated enrollment of 880 campers, down from the usual 1,100, according to Conlon. There also will be one fewer week of camp offered this season.
Supported through user fees and donations, the state's 4-H Camps do not meet the requirements for federal and state money, despite their affiliation with UNH.
With traditional overnight camp fees of $395 per week, camp officials face constant financial challenges, including the compensation of 60 camp staff members, from cooks and maintenance personnel to counselors — a role Conlon said was once filled by volunteers but now includes staff trained in child development, health and safety and conflict resolution.
"Our counselors are part entertainer, child psychologist, big brother and best friend," Conlon said. "Their shirts actually say 'professional role model.'"
Continuing the tradition
With the start of the summer camp season two months away, Conlon and others associated with the 4-H Camp program are taking the steps needed to ensure this year's campers will enjoy their camp experience and are hoping community members will join them in the effort.
In an effort to better address the camps' financial needs, the organization has formed the Friends of 4-H Camps Advisory Group, a 12-member committee that will focus on prioritizing needed improvements and securing in-kind and monetary donations, Conlon said.
Meanwhile, upcoming events at Bear Hill 4-H Camp – including a work-day weekend scheduled for May 5 and 6 and a 4-H Camp Open House, complete with barbeque and campfire on June 16 – give would-be supporters and campers the opportunity to visit and see for themselves what 4-H Camps have to offer.
And the fourth annual Friends of 4-H Golf Tournament is scheduled for Friday, May 18, at the Canterbury Woods Country Club.
For more information on New Hampshire's 4-H Camps and upcoming programs or how you can help, visit extension.unh/4H/4Hcamps.htm or call 862-2132.