XenoTherapeutics and Datanomix win 5th annual Flatley Challenge
Winners receive a year of free office space, $10,000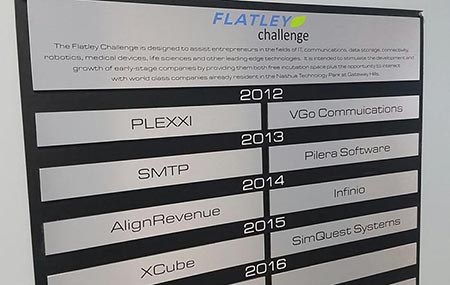 XenoTherapeutics Inc., a nonprofit focused on the science of transplanting tissues and organs of dissimilar species, and Datanomix, a startup looking at solving major cloud infrastructure challenges for enterprise companies, have been named the winners of the 2016 Flatley Challenge.
As a result, each winner will receive a year of free office space at Gateway Hills in Nashua and a $10,000 prize.
XenoTherapeutics is the first winner in the challenge's BioTech category. Datanomix won in the HiTech category.
"Winning the Flatley Challenge literally means the world to me and my team at XenoTherapeutics," said Paul Holzer, CEO of XenoTherapeutics. "We were finalists in the MassChallenge; we were finalists in HubWeek; but to end our first year as the winner of such a prestigious prize recognizes the refinement and maturity of our organization."
Greg McHale, Datanomix's founder and chief technology officer, said of Gateway Hills, "there is no better location to build Datanomix, and we are honored to have won the 2016 Flatley Challenge."
In addition, two runners-up have been offered free office space at Gateway Hills: Forcivity, a cloud-based data reporting and access platform startup and Therapeutic Innovations, a healthcare engineering startup developing cost-effective pediatric care devices for the developing world.