Worldwide growth fuels N.H. exports record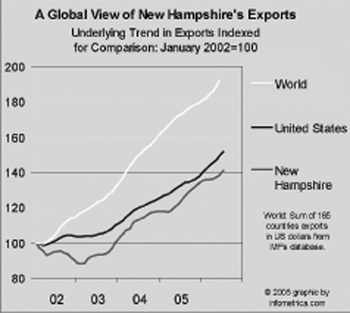 The contribution of exports to New Hampshire's economic development has become increasingly important this year as we witness a slowdown in economic activity at home. The pickup in the pace of foreign sales allows the state's businesses to keep growing and create jobs at a time when consumers cut their spending squeezed by high energy prices and the housing market in the state cools.
Strong worldwide economic growth is the major driving force in the increased demand for goods made in New Hampshire. State exporters not only receive bigger orders from existing foreign buyers, but they are able to sell to new customers as economic growth deepens around the globe.
According to the International Monetary Fund's new semiannual economic report, published in September, global expansion was broad-based in the first half of 2006 and worldwide output, a measure of all nations' income, is estimated to average 5.1 percent this year before moderating to 4.9 percent in 2007.
The IMF predicts the volume of world trade will grow by 8.9 percent in 2006 and 7.6 percent in 2007, compared to 7.4 percent in 2005.
Presenting IMF's report, Raghuram Rajan, director of the research department, amply pointed out that "growth is becoming more balanced even if the U.S. economy is beginning to slow, the Euro area has gained momentum, Japan's expansion continues, and emerging markets and developing countries are delivering very impressive growth rates."
Good economic news abroad translates to good news at home for exporters and their workers, with spillover effects on the overall state economy. The latest international trade data indicates that foreign sales of goods made in the Granite State rose in July, in line with good economic conditions abroad.
The recent 5.4 percent leap brought New Hampshire exports to an all-time high of $250.6 million, adjusted for seasonal variation. On an annual basis, New Hampshire's exporters posted gains in selling their goods abroad. In July, foreign outbound shipments from state companies surpassed the mark set in July of 2005 by $34.2 million, or 15.8 percent.
Exports of manufactured goods dominated the state's international trade, accounting for 81 percent of all exports. In July, shipments abroad from New Hampshire's factories climbed 3.5 percent to their highest level in history, hitting $202.7 million, seasonally adjusted; they were 12.1 percent higher than in July of 2005.
Exports of manufactured goods contributed to 11,000 factory jobs in making the final goods sold abroad in July. There were also 7,000 manufacturing jobs in New Hampshire in related industries, which support the state's exporting companies.
Exports of non-manufactured goods rose 14.1 percent in July, to $47.8 million, adjusted for seasonal variation.
In comparison to the same period of 2005, overseas sales from New Hampshire's companies – seasonally adjusted – increased by an annual rate of 13.8 percent, compared with a 14.4 percent average growth for the nation as a whole.
As a result, New Hampshire ranked thirtieth among the fifty states through the first seven months of 2006 in export growth.
Nationally, U.S. exports of goods, seasonally adjusted, declined by 1.5 percent in July to $85.6 billion from an all-time high mark of $86.9 billion in June. Through the first seven months of 2006, national exports of goods climbed by an impressive annual rate of 14.4 percent, in comparison to the first seven months of 2005.
Evangelos Simos, chief economist of the consulting and research firm Infometrica Inc., is editor for International Affairs in the Journal of Business Forecasting, and professor/department chair at the Whittemore School of Business & Economics, University of New Hampshire. Distributed by Infometrica Inc. He may be reached at eosimos@infometrica.com.