Working For Play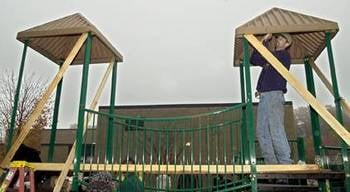 NASHUA – In the chilly drizzle Saturday, dozens of parents worked together building a playground at Bicentennial Elementary School that the smallest students can use.
The playground, which was financed through a mix of donations and fund-raisers, is for preschoolers, kindergartners, first-graders and handicapped and special-needs children.
This is the first year Bicentennial has had preschoolers attend. There were some concerns that the current playground wasn't set up for the younger students.
The equipment on the playground was too big for the younger students, said Judy Eldredge-Root, co-president of the Parent Teacher Organization.
The playground, which is near a wooded area, isn't fenced off.
"It's hard to keep 3- and 4-year-olds contained," Eldredge-Root said.
The new playground will also be handicap-accessible, she said. It will be open to the public.
Several children have gross-motor-skill delays that they can work on by practicing those skills on the playground equipment, said Deb Winn, preschool coordinator.
A mixture of funding helped the school and PTO install the playground, which was being placed where two portable classrooms were.
The playground cost approximately $23,000 to 25,000, according to Eldredge-Root. The playground should be completed within the next two weeks, she said.
Fund-raisers such as the yearly magazine sales and a golf tournament went toward the playground. Parents Assisting Special Educators and the city gave money from an American with Disabilities Association grant. The school district special education department also helped out.
On Saturday, pieces of the green playground slowly came together as parents and district employees held large black steps, shimmying them back and forth. Other parents held shovels, waiting to fill holes, where the equipment'sfoundations were placed in the ground.
Parent John Goulet was at the school at 6:45 a.m., waiting to give a hand. He unloaded trucks, doing a bit of everything.
As cement was poured in foundation holes, Goulet, who's an account manager, said it wasn't difficult work.
"It's great," he said. "We need something like this."
Goulet, whose wife is a member of the PTO, said there was a good turnout, but noted it can always be higher.
"It's a good group of people," he said. "I think more people should participate."