Work begins on Durham student housing project
197-bed private development reflects a growing national trend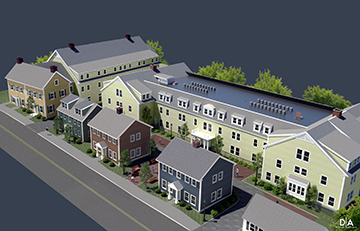 Construction has begun on a 197-bed, 86,000-square-foot private student housing project in Durham, with opening of the complex expected by the fall of 2015.
Designed by DeStefano Architects in Portsmouth and built by Fulcrum Associates of Amherst, the downtown Durham project is a partnership between DeStefano and Orion Student Housing.
Orion Student Housing, which owns student housing facilities in New Hampshire, Maine, Massachusetts, Texas and Indiana, currently has more than 3,000 student beds in its portfolio or under development.
Adam Wagner, DeStefano's director of operations, said that, while the planning process in Durham took two years, the project received unanimous approval from all the local land use boards.
"The greatest challenge of this project was incorporating the amenities that today's students are looking for within a historic New England village," said Wagner. "The result is a project that complements traditional architectural style, yet offers the latest in student housing trends and advanced technology integration."
Orion says its leasing company began hearing from students interested in renting the units before construction started and the entire facility was pre-leased in less than 36 hours.
According to Wagner, privatized student housing is a growing trend, as developers capitalize on the desire of parents and students to find well-managed, clean and secure living quarters.
Other participants in the project include The Dolben Company, which is serving as the owner's representative, and engineering firms Wozny Barbar Associates and Allen & Major Associates.