WoodSpring plan for new hotel in Merrimack OKd
To be built near site of former Merrimack Hotel and Conference Center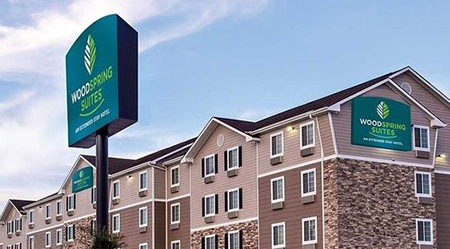 The Merrimack Planning Board has approved plans for a new 123-room, 48,000-square-foot extended stay hotel at a site near the former Merrimack Hotel and Conference Center.
There are no immediate plans to demolish the unused hotel, since the new hotel planned by WoodSpring Hotels will be constructed nearby on two subdivided acres at 4 Executive Park Drive.
Each room will include a kitchenette with a refrigerator, cooktop, microwave, sink and workspace.
WoodSpring operates more than 200 hotels in 32 states, but this is the company's first in New Hampshire.
Meanwhile, the future of the former Merrimack Hotel remains up in the air event after its purchase for $1.26 million by 4 Executive Park Drive Realty LLC.