Wintry weather blows into region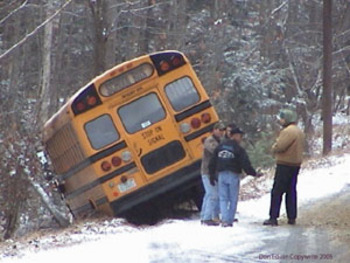 Area police, fire and utility crews were kept busy Tuesday as freezing rain sent motorists spinning and dropped tree branches as well as several whole trees onto power lines.
In Hollis, a school bus carrying about 45 middle- and high-school students slid off the road Tuesday morning, but nobody was injured.
The accident happened in front of 101 Rocky Pond Road, shortly after 7 a.m., when Bus No. 2, carrying Hollis children to the Hollis-Brookline Cooperative schools, hit a patch of icy road.
"It was trying to stop and slid off the road," said Superintendent of Schools Ken DeBenedictis. "Temperatures were changing at that time, melting and freezing, and there was obviously some ice under the snow."
The children left the bus by the emergency door in the back, as is standard procedure.
They were checked out by the Hollis ambulance service and transferred to another bus that took them to school. One child complained of a neck injury and was taken to a hospital, but was "checked out and was fine," said DeBenedictis.
Parents were notified, he added.
The bus, owned by Hollis Transportation Inc., had to be pulled out of the ditch by tow trucks, but suffered only minor damage to a fender.
Slushy conditions didn't make things any better in the late afternoon either.
Police and fire officials in Nashua and Merrimack reported responding to numerous minor car crashes and spinouts, most minor accidents believed to have been caused by a mixture of speed and ice.
"Every year, it is the same thing," said Merrimack police Sgt. Paul Trepaney. "People need to slow down."
Trepaney said officers responded to about 13 weather-related vehicle crash reports through the latter part of the day.
One incident was a single-car rollover near the intersection of Patten and Baboosic Lake roads at about 4:15 p.m.
The male driver of the car, who was not injured, reported that he had lost control of the vehicle, Trepaney said.
About two hours later, police responded to a three-car crash, in the vicinity of Ya Mama's restaurant at 75 Daniel Webster Highway.
One woman was transported to Southern New Hampshire Medical Center in Nashua with minor injuries following the crash, Trepaney said.
Ice accumulation also meant trouble for area residents as limbs and trees fell across power lines causing small fires and knocking out power.
At about 8:30 p.m., Public Service of New Hampshire officials crews were busy working on scattered outages in Amherst, Hollis, Merrimack, Milford, Nashua and Litchfield, mostly due to limbs on wires and other weather-related reasons.
The company began receiving an increase in power-outage reports at about 5:30 p.m., according PSNH spokeswoman Kathleen Lewis.
In Merrimack, police were forced to shut down traffic on Spaulding Drive when a tall tree about 18 inches in diameter fell across the street and onto some area power lines.
Power officials shut off power to the neighborhood as crews waited for a tree service to respond and cut down the tree that lay suspended on the lines, Trepaney said. "It was big enough that I wasn't going drive under it," he said after being asked to estimate the height of the tree.
At 10:15 p.m., PSNH crews were still waiting for the tree service to arrive, according to Lewis.
Crews at the scene had estimated that the tree would be removed and power would be restored to the neighborhood about midnight, she said.