Wilton ZBA allows family to keep miniature horse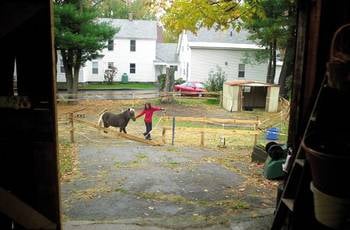 WILTON – Miranda Soodak has taught her miniature horse, Capachino, a number of tricks – such as counting with his hoof, jumping over low bars and blowing on command.
Ten-year-old Miranda will be able to continue with his education, thanks to a ruling by the Zoning Board of Adjustment that allows the little horse to stay at his Island Street home after someone complained about him.
Miranda, a fifth-grader at Pine Hill Waldorf School, has had the pet horse since summer. She does most of the chores, with occasional help from her mother, such as feeding him, cleaning out his stall, grooming him and making sure he exercises. She met "Cappy" or "Chino" while taking riding lessons at Sunbriar Stable in Milford.
"But no one was riding Cappy," she said.
Her mother, Victoria Soodak, a Wilton native, said they had moved back to New Hampshire a couple of years ago. Their dream was to have miniatures.
"Then we met Chino," she said.
Now Chino gets to stay and the Soodaks are delighted.
At issue was a complaint recently filed with town selectmen, stating the horse was incompatible with the area of close-placed houses between the Souhegan River and the canal to the millpond by Label Art. The selectmen issued a cease and desist order, prompting the visit to the ZBA.
The zoning board took the issue seriously. They pondered whether the little animal was a pet or livestock. They tried to consider whether a small horse would cause any more problems in a residential area than, say, a Great Dane or other large lowed by code.
No one really objected to the horse. In fact neighbors think it is "rather quaint," and nice to look at.
"We were not aware we were breaking any zoning rules," said Victoria Soodak. "We thought there was just a health issue, and we were dealing with that."
The manure was being handled properly, she said, with straw bedding and droppings collected every day and removed to a landfill each week, "except for what I use on my garden." They use anti-fly measures and other accepted practices for horses.
The horse is housed in a barn, has a wooden-fenced paddock, and is allowed out, inside an electric fence, onto a right-of-way along the canal to graze. The horse has plenty of room for exercise, and Miranda runs and rides him regularly, she said.
Board Chairman Neil Faiman cited a recent state Supreme Court case defining "accessory uses." Those are uses that "traditionally go along with permitted uses," including garages and swimming pools. "They aren't listed, but we know them when we see them," he said. That includes pets. But does a small horse qualify as a usual pet?
Horses are generally considered livestock, and relegated to agricultural districts. But does that mean the popular housebroken, pot-bellied pigs are livestock as well?
Cappuccino was described as 9.3 hands high, or about 36 inches – not as big as a Great Dane, one board member observed.
Abutter Grayson Parker noted that the previous tenants in his house "had two large dogs" and cited a bigger "dropping problem." He said he had no problems with the little horse. "My tenants think it's rather quaint."
Conservation Commission member Spencer Brookes mentioned a problem with a high bacterial count in the canal, but said it existed prior to the horse. "Dogs are a big source of pollution," he said, and just wanted the possibility noted.
Board member Bob Speare asked if the horse was noisy, "like a dog barking all night." William Soodak said no. "He neighs occasionally."
In the end, the board granted the variance with a number of restrictions. The variance applies only to Cappuccino, all health measures must be continued, his existence must be registered with the police in case he gets loose, and the water in the canal will be monitored. Should the bacterial count rise and be traced to the horse, they must meet current regulations.
Faiman said having a horse, even a small one, on a "two-tenth of an acre lot is a little incongruous," but noted that the house, as well as others on Island Street, "has a barn, where they kept horses in the past."
Eventually, Victoria Soodak said, they would like to move farther from town and have more room.