Wild weather downs power lines and trees, keeps PSNH busy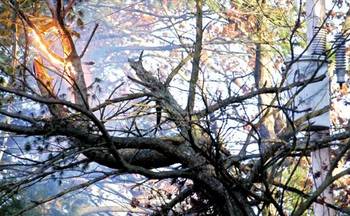 Strong winds blowing kept the work flowing Friday for area emergency and power crews responding to numerous calls for downed trees and power lines.
The winds, caused by the convergence of a strong low-pressure system from the north with a high-pressure system out of the southwest, first began blowing into the region in the overnight hours and increased in strength over the course of the day.
In Nashua, winds began to pick up at about 8 a.m., with gusts in the 20-25 mph range then building to 30 mph by 11 a.m., according to AccuWeather.com meteorologist Michael McAuliffe.
The strongest gust was recorded at 42 mph at about 2:30 p.m., McAuliffe said.
At 5 p.m. Public Service of New Hampshire line crews were working to restore power to about 9,900 customers across the state because of wind-related problems, company spokesman Martin Murray said.
"It has stirred up quite a bit of trouble," Murray said.
Area police and fire crews also responded to numerous calls for trees and wires down.
In Nashua, a tree caused traffic problems when it fell across Daniel Webster Highway near Graham Drive, and in Hudson another tree caught fire when it fell on live power lines near Wason and Colson roads.
Hudson police were also forced to close Ferry Street for a short time during rush hour while PSNH crews worked to fix a telephone pole that had begun to lean over as a result of the strong winds, police officials said.
About 250 Nashua customers in the area of Searles Road, Margate Road and Kathy Drive lost power due to wind problems, as did about 300 customers on Boston Post and Pavilion roads in Amherst, Murray said.
In Litchfield, about 60 customers on Gibson Drive experienced power outages as did about 50 customers on Mason Road in Mont Vernon, Murray said.
Murray said the company first began receiving power outage reports in the early morning hours, and by mid-morning PSNH work crews were working to restore about 8,900 outages statewide.
The company had managed to get that number down to about 4,000 when the wind picked up again at about 2 p.m. causing additional outages, he said.
Most of the outages the company was experiencing at 5 p.m. were expected to be fixed by 9 p.m., he said.
"It is a very tedious job to restore power," Murray said, adding that the crews first try to fix problems that will restore power to a larger amount of customers before tackling problems that affect a fewer amount of customers.
"Normally the line crews leave at the end of the daylight hours, but we will have crews continuing to work until we have the customers back on," Murray said.