Who protects N.H. consumers from lender abuse?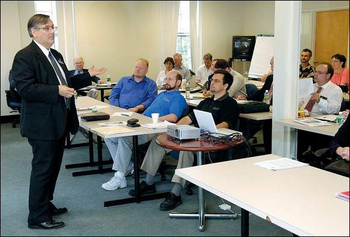 When Karl Comtois, his wife and his five young children were on the verge of losing their Manchester home in foreclosure in August 2005, MAK Investments LLC knocked on their door to come to their rescue.
"Our job is to help people," Comtois remembers a MAK representative saying in what he says was a "whirlwind" 45-minute sales pitch. Comtois would pay MAK $1,725 a month – nearly $1,000 less than they were then required to pay to their mortgage company – and he would stop the foreclosure auction through a refinancing deal, according to Comtois' account.
Comtois might owe MAK some money for penalties, but the exact amount "was not on paper. They said we were going to fill in the blanks later. I'm ashamed to say, but they snowed me on it," Comtois said.
After the blanks were filled, Comtois said he learned that his interest would equal the principal due on the mortgage, payable in one year. He later learned that his mortgage company wouldn't accept the $1,725 monthly payment from MAK, and he would soon be facing foreclosure again. When he protested, MAK filed the deed, and shortly before Christmas started to evict him from what was once his house.
Comtois, who is fighting MAK in state, federal and bankruptcy courts, thought he had a glimmer of hope when the New Hampshire Banking Department contacted him about an investigation into MAK's practices. The probe, which included three similar complaints about proper disclosures led to a July 2006 cease and desist order against MAK, which didn't have a mortgage broker's license. (MAK is challenging the order, and in Comtois' case, denies that proper disclosures weren't made.)
The cease and desist order may too late to be of much help to Comtois. And while the Banking Department might take his case, he was told, it was unlikely. And so far, his case has not made an impression in court.
Comtois doesn't understand it.
"You got a cease and desist order," he said. "Why aren't you protecting me? My family is going to be out on the street."
Protecting consumers
When it comes to mortgage companies, New Hampshire consumers have very little protection. The MAK case was the exception, not because the Banking Department usually offers more help, but because it took any enforcement action at all directly related to consumer protection.
In New Hampshire, the Banking Department is the only place consumers can go for protection from mortgage company abuse. That's because the state Consumer Protection Act — an act that allows consumers to get triple damages and attorneys' fees — exempts mortgage companies.
"There is nothing I can really do for them," said Ed O'Brien, a consumer protection lawyer in Manchester. "I tell them to go the bank commissioner."
New Hampshire Banking Commissioner Peter Hildreth said what O'Brien is saying is technically not true. O'Brien could always represent clients in front of the commission at a hearing, he said. He just wouldn't get awarded hefty legal fees. But Hildreth agreed that without those fees, not many attorneys would take those kind of cases.
The New Hampshire Banking Department has a lot more authority to protect consumers. A new law, passed in 2003, gives the department the power to issue cease and desist orders, order restitution to consumers and institute hefty fines against non-bank financial institutions like mortgage brokers and payday lenders. The department also could refer some of the most serious violations to the attorney general's office.
And because of that 2003 law, Commissioner Hildreth has been able to beef up his staff, which has more than doubled in size from 10 to 24 positions.
Another approach
As mortgage foreclosures continue the rise in the state – on the way to nearly doubling in the last year — the number of complaints are rising too.
In 2006, there were 99 complaints filed by Oct. 10 — 21 more than there were filed in all of 2005.
While the nature of those complaints were redacted by the Banking Department before being reviewed for this article, it is clear that very few resulted in any kind of enforcement action.
While the Banking Department has issued some 57 enforcement actions in the past two years, only a handful were a result of consumer complaints. Of the 45 reviewed by the New Hampshire Business Review (a dozen were not provided by the department by deadline) 31 were for not filing or paying fees on time, or for not providing loan materials for examination. While five of the actions, including one against MAK, involved accusations of operating without a license, several of these made loans out of a branch that had not received its license yet and simply paid a fine.
Aside from three actions alleging that brokers improperly used another institution's name in marketing their loan, and one company that didn't properly shred confidential information, none of the enforcement actions had anything to do with consumer protection.
While there have been four cease and desist orders issued (including the one against MAK) there have been no orders of restitution and nothing has been referred to the attorney general's office, Hildreth said.
The story is very different in Massachusetts, where consumers can file suit under that state's Consumer Protection Act.
In the past few months alone, the Massachusetts banking agency has raided offices, conducted surprise inspections and taken enforcement actions against 15 companies.
The investigators charged that some brokers inflated borrowers' income so they would be eligible for loans that needed little documentation, "using misleading tactics and in some case fraud," the state said.
"Putting these abusive companies out of business will be the minimum action we will take," said Massachusetts Bank Commissioner Steven L. Antonakes in a press release.
Several of the companies targeted by Massachusetts can do business in New Hampshire – either because they are licensed by the or have filed with the secretary of state.
Hildreth would not say however whether any of these companies are actually making loans in New Hampshire, saying that would violate the confidentiality pledges made to a company while inspecting their files. He said that his department would take a look at some of these companies as a matter of course, but would not confirm or deny any investigation of them in New Hampshire.
(There is a move by banking officials from various states to set up a national data base, so that the public can learn about enforcement actions elsewhere, but such a database is years away. Some states, like Massachusetts, put their enforcement actions and decisions on the Web. New Hampshire does not, though Hildreth did say his department was trying to update its database so it could do so.)
Mass. and N.H.
A few companies that faced enforcement actions in Massachusetts also had enforcement orders in New Hampshire.
For instance, Massachusetts issued a cease and desist order in March 2006 against Quotemearate.com, a mortgage broker based in Houston, charging the company with "a pattern or practice of understatements or omissions regarding fees," that it failed to deposit funds from loan closings in trust accounts, and that it conducted business from 47 unlicensed locations.
New Hampshire issued a cease and desist order against Quotemearate in January 2006 to stop it from operating without a license in one Nashua location and using one unlicensed broker. There was no mention of any unfair lending practices. The company is still not licensed as a broker in the state.
In another example, Massachusetts issued a cease and desist order three years ago against Platinum Capital Group, charging – among other things — that the California-based lender "provided consumers with misleading disclosures."
In New Hampshire, Platinum was charged with failing to provide loan materials for a bank examination, and was back in business after it agreed to pay a $3,000 fine.
But Hildreth points to the progress his department has made under his tenure, which has spanned the administration of three governors and expires in January. He said that because of increased staff, mortgage companies are inspected more frequently. Before he took over, he said, only 5 percent were inspected on time. Now, nearly every company has its files examined punctually.
To O'Brien, however, the Banking Department is missing the point.
"The Banking Department can make sure someone has a license on the wall, and do dipsy things like that, but that's not what this is about," he said. "It's about people who are about to lose their home, who are forced to sell or face foreclosure. It's not helpful that they have a license if they can steal and put someone on welfare."
But Hildreth counters that it is only by examining files that his department can track down consumer violations. Thus fining companies or threatening to put them out of business for not providing loan files or for not cooperating with examinations is much more than a technical violation.
"That's why we need to see their operation, to see if they are making proper disclosures," said Hildreth.
He said that now that there are regular inspections, there are more investigations in the works, and there may be some consumer protection enforcement actions in the near future.
He also defended the lack of consumer protection citations in the decisions, or the lack of any restitution to consumers, saying that when investigating a complaint the companies often make the consumer "whole" so there is no need "to put that in an order."
Besides, he said, the consumer isn't always right.
"A lot of times, when we investigate, it's clear that the company did what they were allowed to do. They didn't do anything wrong," said Hildreth.
Improper disclosures
In the case against MAK, the department did find that the company did something wrong. In its cease and desist order, the staff cited three alleged cases in which MAK allegedly did not properly disclose loan terms. The department alleged:
• In Francestown, MAK offered what the consumer "understood to be an unsecured loan" to reinstate a mortgage to Citicorp on the eve of the foreclosure. The consumer was told "what you borrow is what you pay." Only on the morning of the sale did the consumer signed an "Affidavit in Lieu of a Promissory Note," which required the consumer to pay double the amount of the loan, and to agree to the undisclosed note. MAK also produced a deed to be signed over.
The promissory note, however, asked that mortgage payments go to MAK. When the consumer tried to refinance with the original mortgage company, MAK filed the deed, and started eviction proceedings. Without the deed, the consumer's town welfare was canceled because she no longer lived in the town. When MAK stopped making payments on the mortgage, the mortgage company demanded payments from the consumer.
• MAK approached a consumer in Pembroke to stop a foreclosure, got the consumer to sign the paperwork without providing financing disclosures or copy of documents. The consumer later learned that the paperwork was a purchase and sale agreement, which required the consumer pay $35,000 in a month, and if conditions were not met the consumer was required to vacate the property. But MAK didn't wait, and sold the property the same day of the foreclosure sale.
• A Gilford consumer agreed to a MAK loan to stave off a foreclosure, if the consumer sent mortgage payments to MAK. While the consumer paid some $1,500 a month to MAK, MAK failed to forward the payments on time. So the consumer started paying MAK the interest payments and sending the principal to her mortgage company. Eventually, the consumer was able to refinance, but only after MAK received an $18,000 payoff, which was "contrary to the amount contained in the note," which was for $11,150.
A call to MAK's attorney representing it in front of the commission was not returned by deadline.
In Comtois' case, a suit filed in Hillsborough County Superior Court by Franklin Pierce Law Clinic attorney Peter Wright, contains similar accusations.
Comtois, who bought a Colonial three-bedroom home six years ago from his father, said that he got into trouble when he was stiffed by several large customers on his contracting business. Comtois needed to borrow nearly $24,000 to avoid foreclosure. MAK offered to take care of the matter, as long as nearly $48,000 was paid back in a year. There were none of the usual truth-in-lending disclosures, according to the lawsuit.
So far, MAK has mainly given legal arguments in court, without disputing the facts, said Grenville Clark, who represents MAK in the Comtois case. The problem, he said, is that Comtois hasn't made the payments as promised.
"We don't want to try this case in the newspaper," he said. "But MAK does not concede there is any problem with disclosure." He added: "I'm not privy what happened, since I was not involved at the time."
After the eviction notice was filed, Comtois filed for relief in federal Bankruptcy Court. That delayed foreclosure, but said attorney Wright, the judge ruled that since the mortgage was issued before the Banking Department order, it was not given much weight.
Thus Comtois could be evicted any day. Comtois said that if he is evicted, he and his family would move in with his parents in Connecticut, disrupting the schooling of his five children, ages 2 to 10.
"What do these orders mean if this still can continue?" Wright said. "I can't help but question, is there is true enforcement here?"