White Mountains Community College adds electric vehicle certificate and curriculum
New certificate program includes hands-on training building a drivable electric vehicle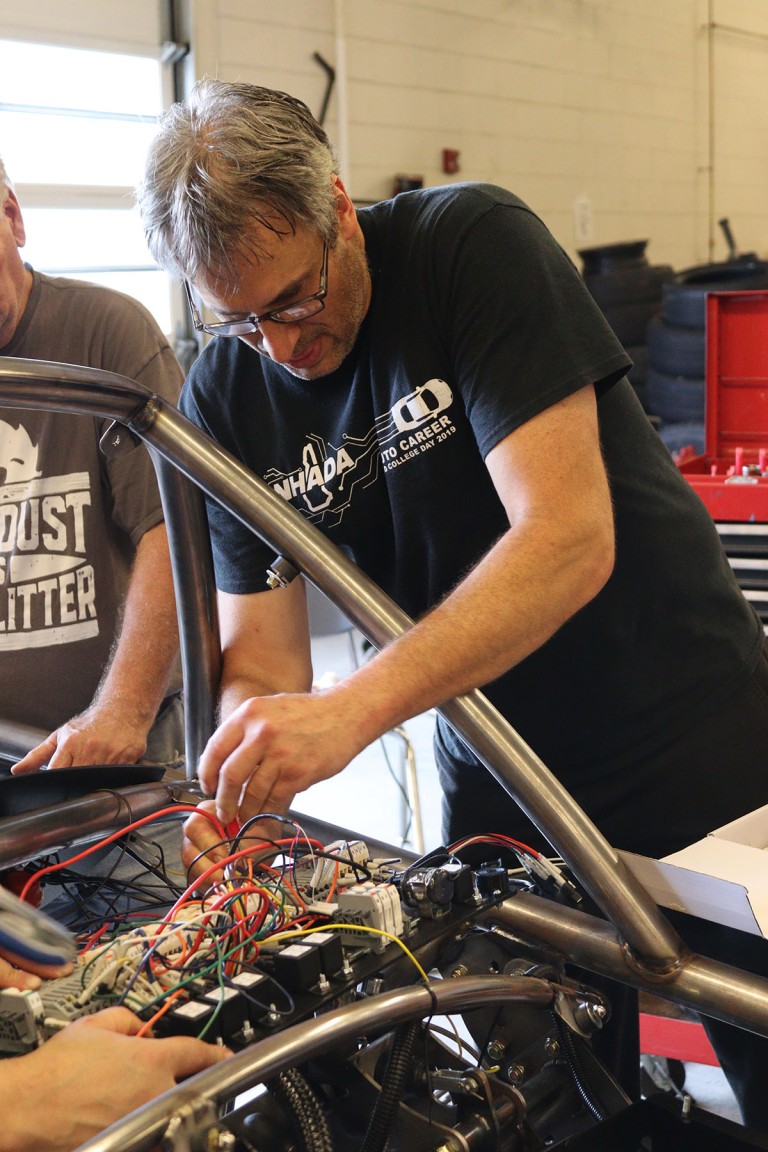 Fuel prices are approaching an all-time high, leading to a growing interest in electric vehicles. To address the need for skilled technicians to maintain them, White Mountains Community College (WMCC) is adding a new Electric Vehicle (EV) Technician certificate to the Automotive Technology program this fall.
The EV programing at the Berlin campus includes four new dedicated classes to prepare students for this emerging workforce need. The curriculum includes a 15-week project where students in their final semester will learn to build a Switch Glider, a three-wheeled electric vehicle that was designed to be used in academic settings for students to gain direct experience on how electric vehicles operate.
"Major vehicle manufacturing companies have made commitments to have all electric vehicles in their fleet as early as 2025," said Troy Lachance, WMCC automotive technology instructor. "The increased production and commitment provide employment opportunities in various positions throughout the industry."
Since the inception of the electric vehicle in 1996, over 5 million hybrid electric automobiles and sport utility vehicles have been sold in the United States. Over the past two years, the number of EV's registered in New Hampshire doubled and that number is expected to continue to increase rapidly, according to the NH Division of Motor Vehicles.
For several years, there has been a significant emphasis on eliminating dependence on petroleum and protecting the environment. These trends have recently been exacerbated by the dramatic increase in the cost of gasoline in early 2022.
WMCC's one-year Electric Vehicle Technician certificate will prepare students to be proficient technicians in both basic automobile technology and electronic vehicle components. The certificate combines in-depth theory with extensive practical training in a well-equipped lab with state-of-the-art training equipment and curriculum developed in collaboration with Switch Lab.
Students will spend an entire semester learning about electric vehicle components, how to build the Switch Glider, assembling it and then driving it. The Switch Lab's Glider comes as a reusable kit designed to be built, tested, driven and then disassembled for the next class.
"Our students have always asked for more hands-on projects in the automotive technology program," continued Lachance. "The Switch Glider will provide theory-based curriculum and hands-on exercises for students to build, wire up and drive an electric vehicle. This will allow them to graduate with electric vehicle knowledge, an area that is growing every day."
The new stackable certificate can be completed in conjunction with the Automotive Technology associate degree, providing versatile skill sets to enhance a graduate's career prospects. Upon graduation, students are prepared to apply for positions as service technicians, but can also enter careers in sales, parts and management.
"As students finish the certificate, they will be very comfortable and confident in servicing any electric vehicle that's out there," said Lachance. "All of the components in the Switch Glider emulate exactly what a modern production electric vehicle has, so they can take these skills to any manufacturer for employment in this area, if they choose. It's a highly marketable skill right now."
To learn more about the program, contact Troy Lachance at tlachance@ccsnh.edu.