When, oh when, will Alfas come back to us?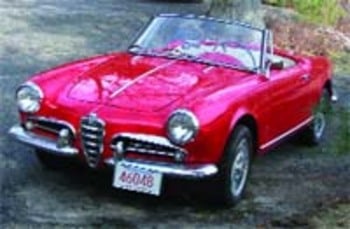 At the end of July, more than 600 Alfa Romeo owners from across the nation will converge on New Hampshire with their cars, passions and dreams in tow for a few days of Alfa talk, Alfa ogling, Alfa fun and Alfa hopes.
The cause for the congregation of Alfisti (Alfa lovers) in the Granite State is the annual convention of the Alfa Romeo Owners Club, hosted by the local chapter, Alfa Owners of New England. Included in the four-day extravaganza are a number of driving opportunities at New England Dragway and the New Hampshire International Speedway and throughout this state's Alfa-friendly network of spectacular back roads.
With Alfisti coming from as far away as California and Great Britain, there will be no shortage of "shop talk" about the wonders — and sometimes the challenges — of owning and loving what many consider the most rewarding and practical exotic automobile built today, or any other day. There also will be prophesying about when — or if — Alfa Romeos will return to America again. Grace before the banquet could include, "Bless us Lord for these Thy gifts which we are about to receive, and through Thy bounty could You manage to motivate Fiat off its butt to get the new Alfa Romeos over here again before we're all too old to drive them. Amen."
Back in April 2000, General Motors acquired 20 percent of Fiat SPA (a subsidiary of Fiat Group), in return for about 5 percent, or $2.4 billion worth, of stock in GM. The partnering was not only seen as a chance to open up joint ventures for the automobile companies in their existing markets of Europe and Latin America at substantial savings, but also to return Alfa to American soil.
America has been without most Fiat-made cars for quite a while. Lancia disappeared in 1977, Fiat models in 1983, Maserati in 1993 and Alfa Romeo left last, in 1995. Ferraris were always sold in North America, and Maserati made its comeback a couple of years ago. Ferrari and Maserati, however, are cars that few dream about and even fewer can own.
Alfa Romeos are another story. They're a legendary "máchina Italiana," as well as cars for getting people to the supermarket with panache. These are "off-the-rack" cars, priced in the Saab and Volvo range, with the vavoom of a supermodel. They're built for speed and stamina and style. (Is there anything else to want in an automobile?) They're driven by Italian police, European soccer moms and almost anyone else who desires vivacity and verve in their daily driver. So what gives? Why aren't they here?
Always very special
Once the major provider of automobiles for the global market, Fiat has suffered financial distress for a number of years. Fiat Group was originally a huge conglomerate, making every type of vehicle that moves, as well as being involved in concerns as automotively unrelated as insurance.
Fiat began divesting itself of a number of its subsidiaries in 2003 after posting a 4.8 billion euros ($5.9 billion) pre-tax loss in 2002. In 2003, its streamlining and saving measures helped, but the company still experienced a pre-tax loss of 1.3 billion euros ($1.6 billion). The company's goal, according to its "Relaunching Plan," is an operating break-even in 2004 and a net income break-even in 2005.
With its financial records still in the red, most say it's understandable Fiat hasn't begun manufacturing Alfa Romeos for the American market, considering safety and emission requirements. Yet many who follow the automotive industry feel Alfa's current inventory would attract a large market here.
Why? Alfa's are, and always have been, very special.
Originally founded in 1906 as Frenchman Alexandre Darracq's Italian subsidiary, the company was reborn in 1910 as Anonima Lombarda Fabbrica Automobili, Alfa for short. The Romeo portion of the name came in 1915, when engineer and industrialist Nicola Romeo purchased the company.
From its beginnings, engineering at Alfa was a strength. By 1915, Alfa was making cars with engines with dual overhead camshafts with four valves per cylinder in hemispherically shaped combustion chambers. Yup, in 1915, Alfa was making "Hemis" — eat your heart out Chrysler.
Alfa proved its worth in pre- and post-World War II Europe in Grand Prix and road races up until about 1951. This was racing's Golden Era, and the days when the cars were single-seater, narrow "monoposto," when tires were thin and drivers were not, when fabled racers like Ascari, Campari, Nuvolari, Farina, Ferrari and Fangio drove for Alfa by the seat of their non-fire-retardant pants and won, and won, and won.
Driven by its racing technology, Alfa succeeded in becoming one of the most sought-after road cars in Europe, and a popular addition to the American market. For some reason, when Italian coach makers like Pininfarina, Bertone and Zagato designed the bodies that surrounded Alfa engines, it was as if their drafting pens were kissed by the angeli. So many elegant cars sprang from its Milan factory that an Alfa was simply expected to be beautiful beyond the standard. Alfa Romeo does what Italians do best: Power and passion.
Since 1998, Alfa Romeo automobiles have won awards and graced the roads of Europe. New concept vehicles — like the sexy Brera — wowed the automotive press and could join the ranks of classics like the Giulietta series. Yet, though American car enthusiasts beg for Alfa's return — believing the cars would be snapped up in a minute helping put Fiat in the black — the return date keeps getting pushed off.
Legend has it, when cars built by Enzo Ferrari — who began his career at Alfa — first defeated the Alfa racing team, Enzo cried, and that Henry Ford — America's auto maven — took off his hat in salute every time an Alfa passed. There are many Alfisti who'd break down in tears if they could see new Alfas on American streets again. The question is, will it ever happen?