Web site helps employers shop for health plans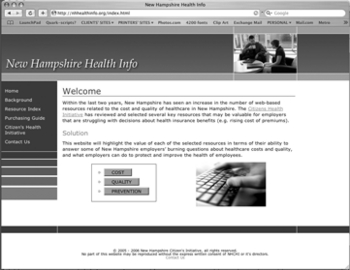 The New Hampshire Citizens Health Initiative has launched a new Web site aimed at helping employers find answers to questions about health plans available in the Granite State.
In a nutshell, NHHealthInfo.org is a Web site of Web sites, or what is known as a Web portal. While employers will not be able to find specific prices on insurance plans for their workers, what they will find is a wealth of information to help them better understand what they need to know about the insurance market before they go shopping.
"With insurance costs spiraling upward, employers need to be savvy consumers when they consider purchasing health-care plans for their employees and controlling their own costs," said Paul Spiess, who serves as chair of the working group that created the Web site. "Up to now, employers have had to operate in the dark. We hope they will come to this site to learn the right questions to ask insurance providers and to help them make their health benefits decisions based on good, sound data."
NHHealthInfo.org is composed of three main sections — cost, quality and prevention — and features links to and profiles about other major Web sites, such as NHPricePoint.org, created by the state hospital association, NHQualityCare.org, created by the Foundation for Healthy Communities, and the worksite wellness page developed by the state Department of Health and Human Services.
Other sites, such as the forthcoming NHHealthCost.org — which compares costs for certain medical procedures and diagnoses based on insurance claims and hospital data that was developed by the state Insurance and Health Departments — may be added in the future.
The portal also has a purchasing guide for employers to learn about the right questions to ask when researching products and talking to brokers about plans.
Spiess said the current focus is providing information to small-business owners, but eventually consumer data will be included.
Spiess said the Web portal is continuously updated and expanded by the Citizens Health Initiative and the University of New Hampshire's Institute for Health Policy and Practice.
"We hope that a year from now, there will be twice as many site on NHHealthInfo.org," said Spiess.