Web access soon to be part of menu at Brookline Cafe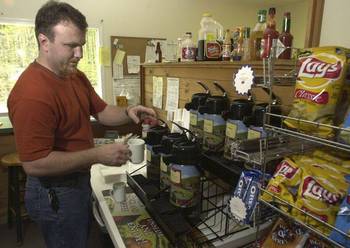 BROOKLINE – Soon, Brookline Cafe owner Chris Susalka will be offering customers Internet access with their coffee.
The Milford resident bought the business at 104B Route 13 in January, and he's already looking to change and expand it.
In June, wireless Internet access will be added to the menu of bagels, breakfast plates and made-to-order sandwiches.
Susalka, a Navy veteran and former aircraft mechanic, said he has always wanted to own a cafe. When he saw the property listed with Farwell Real Estate in Brookline, he said, "I saw the opportunity and jumped on it. It still needed some TLC."
Susalka leaned over a small grill to prepare breakfast sausage and home fries for a waiting customer. He said he has taken the time to squeeze quality into his quantity of food choices.
"I put more money into the product because I'm not a franchise and I want people to come back," he said.
The cafe serves breakfast and lunch from 6 a.m.-2 p.m. Monday through Friday, and from 6:30 a.m.-1:30 p.m. Saturdays. Daily specials vary from pulled pork sandwiches to lasagna and chicken teriyaki.
Susalka sells fresh bagels from Bagel Alley in Nashua and buys his produce at nearby Lull Farm. Other special touches set him apart from the local competition as well, Susalka said.
"I offer a full breakfast," he said. "No other place around town has a full breakfast at 6 a.m. French toast, pancakes – the whole nine yards."
The business is located in a plaza across from the Riverside Restaurant and next to the Bank of New Hampshire. Susalka said although many locals aren't familiar with the cafe, "once they come in, usually they're repeat customers. They're going to get very good food at a decent price."
Susalka wanted to offer Internet access to draw more business and to set himself apart from other local food joints, he said.
He also plans to save his customers a trip to the nearest mall. The cafe will soon offer one-stop shopping for computer accessories such as ink jet and toner cartridges.
"If I'm going to have Internet access, I might as well offer everything they need for their computer," Susalka said.
Emily Cavalier can be reached at 594-5833 or cavaliere@telegraph-nh.com.