Wayfarer Inn 'ideal choice' for events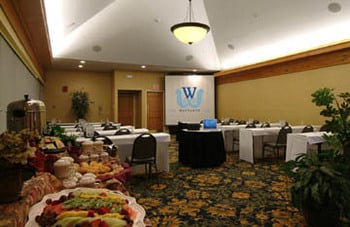 Nestled amid picturesque trees and waterfalls, the Wayfarer Inn provides a quintessential New Hampshire lodging experience that is only minutes away from downtown Manchester and the Manchester Airport.
To enhance its level of service and commitment to the community, the Wayfarer is undergoing a $3 million remodeling and renovation initiative. Extensive renovations to the convention center meeting space have been completed and include all new vaulted ceilings, lighting, sound system and doors. Guest rooms remodeling includes new carpeting, furniture and new bathroom fixtures. Most exterior renovations have been completed and the remainder will be finished by late summer.
"We have banquet seating for 650 guests in our ballroom, making us the second largest meeting facility in the Manchester area, " says the Wayfarer's Tim Kenahan. "We are the ideal choice for your next event."
The Wayfarer Inn is located at 121 S. River Rd. in Bedford, just off the Interstate 293/Route 101 West (Bedford ) exit.
For more information about the Wayfarer Inn, call (603) 622-3766 or visit www.wayfarerinn.com.