Ward 8 residents assured racetrack plan is dead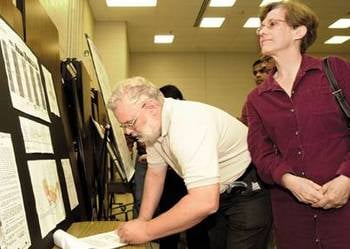 NASHUA – Ward 8 Alderman David MacLaughlin on Thursday night reassured about 150 residents from throughout the city that a conceptual proposal to build a $100 million horse-racing track and entertainment venue in south Nashua will never get out of the starting gate.
During a packed informational session at Bicentennial Elementary School, MacLaughlin read a letter from Mayor Bernie Streeter, who reaffirmed that the proposal by Winner's Circle Development Ventures to build the "lifestyles center'' on land owned by the Flatley Co. was dead.
Streeter said property restrictions agreed to by Flatley about 20 years ago killed the plan.
In the letter to MacLaughlin, Streeter said, "As a result of recent tential use of developable property in the ward you represent, I wish to reiterate to you and all residents of Ward 8 that the very preliminary conceptual plan for the potential use of Flatley property off Spit Brook Road as a combined entertainment center/thoroughbred racing facility is dead.
"Restrictions placed on the property more than 20 years ago and agreed to by the Flatley Co. and adjacent property owners prevent the use of this property for anything other than light park-industrial. This restriction prevents its use for a racetrack or any other such commercial venture,'' Streeter wrote.
Still, many residents who turned out for the meeting Thursday remained skeptical and said they have to band together to prevent similar proposals from arising in the future.
"My fear is that it will come back,'' said resident Eva Brown of Peele Road in the Long Hill neighborhood off East Dunstable Road. "It would destroy the quality of life up on the hill, and I don't believe for a minute that Streeter didn't know that.''
The mayor came under fire last week after Alderman-at-Large Steve Bolton revealed that Streeter had held private meetings between city officials and Kurt Sanborn, a principal in the development group, in violation of the state's Right-to-Know law. Streeter later apologized, saying he hadn't intended to circumvent the law.
But MacLaughlin and Georgette Hippauf, a local radio talk show host, both said Sanborn had been at City Hall this week. MacLaughlin said he didn't know what Sanborn was doing there.
"I've been shut out,'' he said. "I saw him in City Hall. It's a public building. That's all I can say.''
Last week, Richard Cane, regional director for Flatley, confirmed that restrictions on the land specify that it can only be used for very limited purposes – office space or research and development.
About 20 years ago, the Flatley Co. apparently planned to build an office park on the parcel and needed a zoning change from residential to park industrial.
The company reached an agreement with 18 neighbors, setting down in a quitclaim deed to get cooperation for the proposed zoning change near their homes. The park-industrial zoning remains in place, though nothing was ever built on the property.
Elliot Lasky and his wife, Bette, of 15 Masefield Road said they signed the deed and required that the restrictions be placed on it. The deed states that there can be no hotels, auto service stations, removal of sand or quarry materials, bakeries, laundries, restaurants or colleges built on the land, among other prohibitions.
But, "In our wildest dreams, no one ever considered a race track,'' Elliot Lasky said.
He and others said a conservation easement should be placed on the land to prevent development that is unacceptable to the neighborhood.
Still, Walter Merrill of 114 Lille Road said neighbors were unsuccessful in fighting the city when officials decided a few years ago to build a telecommunications tower on a portion of the land, even though the deed restrictions prohibit such structures there.
He said residents have to keep a close eye on the Flatley land because even if the race track proposal is dead for now, "something else will pop up.''