Walpole bakery's aroma is the sweet smell of success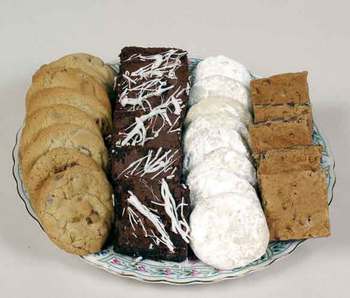 After some 18 years in business, the baked goods produced by Bellows House Bakery in Walpole have found an enthusiastic national market, but that doesn't mean co-owners Lois Ford and husband Lou Ciercielli are taking the time to look back at their success.
In fact, striking a balance between high quality and high volume, the bakery has emerged as "a viable large entity hoping to get larger," said Ford.
Once engineers at General Electric's plant in Fitchburg, Mass., Ford and Ciercielli, both 53, now oversee production of more than 200 varieties of cookies, brownies, fruit squares, shortbreads and specialty items at their 7,500-square-foot commercial bakery in the Vermont border town of Walpole.
Ford, Ciercielli and the dozen people who round out their staff, manufacture up to 30,000 Bellows House creations daily. Daily shipments of varying sizes go out to retailers and catalogue shoppers from around the country. Their customer database consists of names of coffeehouses, corporate offices and private homes as well as retail giants, like BJ Wholesalers and Costco.
The range of customers on the list is a testimony to the importance of diversification in a sometimes fickle business, according to Ford and Ciercielli.
"You have to balance the year so that you have a factory as full as possible all year through," said Ciercielli. "For us the fourth quarter is made up of individual items and the rest of the year is palette items."
The bakery's wholesale business currently accounts for about 25 percent of annual sales, with the elusive mail-order business making up another 20 percent.
The bulk of Bellows House's business comes from the sale of baked goods from "private label" production – products bearing the names of their customers and not their own. Such business accounts for 55 percent of Bellows House Bakery's annual sales.
While the margins seen in the private-label segment of the business are not as large as those in the other two areas, it does offer the firm a level of security not seen in the other areas and presents an added benefit – no marketing costs.
Developing systems
Embracing a diversified customer base is only one example of the similarities the Ford and Ciercielli have found between operating a bakery and their previous careers at GE.
"At, GE jobs were divided between commercial and military," Ciercielli said. "That was important there, and it's important here."
Even production of the vastly different products produced by GE and Bellow House Bakery share similarities according to Ciercielli.
"A factory is a factory," he said. "Taking raw materials and turning them into a final product is the same, whether you're making turbines or cookies."
The couple has found having the proper systems in place has been crucial in the bakery's continued growth. Today the two have systems for tracking everything, from incoming ingredients to outgoing products and client data to recipe alterations.
"We owe a lot of our success to the fact that we spent a great deal of time early on developing these systems," Ford said. "Each one of these systems allow us to work more efficiently, and they make it possible to know very quickly whether or not we should accept a new job or not."
Saying goodbye to GE
The development of these systems, like the growth of the bakery itself, didn't happen overnight. The bakery proved to be a byproduct of a part-time bed and breakfast venture taken on by the couple in the mid-1980s, when they purchased the Josiah Bellows House in Walpole.
Each weekend, the two opened the home's four bedrooms to visitors. In exchange for comfy accommodations and samplings of the couple's culinary creations, Ford and Ciercielli were treated to tales of nontraditional lifestyles and adventurous career paths. According to the two, these tales and the continuous stream of compliments garnered by their home-baked goods prompted them to incorporate Bellows House Bakery in 1988 while continuing to work full time 90 minutes away at GE.
After attempts at allowing another bakery to bake their goodies failed, Ford and Ciercielli decided to face the challenge of making a go of their own bakery head-on.
While Ford's resulting decision to leave GE in 1990 after 17 years proved to be the right one, it wasn't easy.
"When I left, I had no identity," Ford said. "I had been with GE for so long that it had become a part of who I was, and now it was gone. That was difficult."
Eventually, the bakery's slow but steady growth prompted Ciercielli to follow Ford's lead five years later when he too left behind the steady paycheck and joined the business full time.
Despite uncontrollable variables – natural disasters, rising costs of commodities like sugar and oil and even seemingly innocuous trends like the Atkins craze — Ford and Ciercielli edge closer to celebrating the bakery's 20th anniversary — only two years away — in strong financial shape. New items are being considered, and plans are underway to begin exporting their baked goods to Singapore and Mexico.
While the couple declined to share annual sales numbers, they will say 300,000 pounds of baked goods are produced by Bellows House Bakery each year. And both agree their decision to venture into the food business has been a positive one financially.
In fact, Ford and Ciercielli believe the most challenging times for Bellows House Bakery are behind them and the two are eagerly looking to the future.
"There's been times when this has been incredibly hard," Ford said. "But now we're really having fun."