Walking tour shows off parcel Milford wants to reserve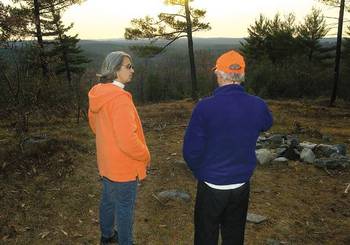 MILFORD – In one direction from Badger Hill – the southern summit, not the northern one – you can see Pack Monadnock. In another, Mount Wachusett. In yet another, Federal Hill.
What you can't see are many houses. That isn't the case from the northern summit, part of the large and slowly growing Badger Hill subdivision. Whether the southern summit stays that way depends on a plan for voters to buy the property for $2.3 million and keep it from development.
"I think this is the last big area we could go after (in Milford)," said Diane Fitzpatrick, chairman of the Milford Conservation Commission.
The commission is spearheading a drive to get voters to buy 445 acres of former forest land, which otherwise will be the site of roughly110 homes. Commission members hope that enough people will see long-term cost savings in the purchase – private houses, in general, cost more in local services than they pay in property taxes – to support it.
But they also hope people will appreciate such a large chunk of wooded, hilly land only 15 minutes from the Milford Oval. They will be holding free Sunday afternoon tours of the property, in hopes that more people will vote to buy the land in March.
Mark Frechette of Nashua appreciates it. He was interviewed Thursday afternoon when heading out of the property after a long day of deer hunting with his muzzle-loader.
"There's a lot of moose in this area," said Frechette, who has hunted often on the property. "There's bear, fisher cats, and plenty of deer."
Frechette wasn't successful in reducing that number of deer Thursday – "I saw some signs, but that's about it" – but didn't seem discouraged.
"It's nice here. I hope they can save it," he said.
If Milford buys the land, it would probably be overseen by the town Conservation Commission, much as is done with the Hitchiner Town Forest and other town-owned open space.
The commission would probably do little, aside from perhaps improving the parking lot and putting up a few trail signs, said conservation chair Fitzpatrick.
"There's a lot of wilderness attached to (the parcel). People can get pretty lost," she said.
The land would probably be left open for hunting, and use by snowmobiles and other motorized vehicles, as well as hiking and horseback riding.
"I think it can handle it," she said, pointing to lightly graveled logging roads that cut through the land.
Despite the property's appeal, and the fact that the nearly 800-foot-tall Badger Hill is Milford's tallest point, even advocates admit that convincing voters to spend so much won't be easy.
Selectmen barely approved putting the warrant article on the ballot by a 3-2 vote, worried by the cost and its effect on voters' perception of a School District warrant article to help the overcrowded fifth grade.
If the land purchase is paid by a 20-year bond, it would add an estimated 28 cents to the tax rate in its first year, costing a $200,000 home about $56. The tax impact would slowly decline for the rest of the debt.
Land-purchase advocates claim that 110 houses could cost Milford $150,000 more than the property taxes they pay for such things as schools and fire protection. That would affect the tax rate less than bond payments, but it also wouldn't end after 20 years.
The Mile Slip parcel is shaped like a huge "L" in Milford's southwest corner, with its left-hand border against the Mason town line, and its leg butting up against the Badger Hill development.
The parcel is bisected by Mile Slip Road, a class VI road that virtually ends after the site of Sunday's hike, although it can be used as a hiking trail all the way to Mason Road in Brookline.
The land was once owned by the founder of OK Tools and then by Marrads Timber Co. It is now owned by Mile Slip Development, which has already presented conceptual plans to the Planning Board for building 110 new homes.
Some of those homes would come with very fine views, indeed.