Volunteers prepare for soup kitchen fund-raiser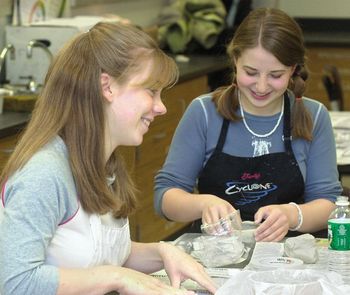 NASHUA – Erin Quadros had some sound advice for building a soup bowl out of clay.
"Just don't make a bowl with holes in it," Quadros, 18, instructed her fellow potters with a laugh. "The soup will spill out."
Quadros and nine others gathered in an art room at Nashua High School South on Wednesday afternoon to build some of the 700 bowls needed for the annual Empty Bowls fund-raiser.
The event doesn't actually take place until February, but the chapter of the National Art Honor Society, made up of students from both high schools, is holding bowl-building workshops now to prepare.
The Empty Bowls fund-raiser is designed to raise money for the Nashua Soup Kitchen. The event is like a soup buffet – those who purchase tickets in advance choose a bowl and are allowed to fill it as many times as they like with soup donated by local restaurants. When the event is over, guests can bring their bowl home.
The event is sold out every year, said Katie Rudolph, vice-president of the art honor society and this year's Empty Bowl event coordinator.
Rudolph, an 18-year-old senior at North, said they made about 100 bowls at the first workshop last Wednesday. They had already made about 40 when the second workshop was half over.
The workshop was open any student, teacher or community member who wished to volunteer. One session was held from 2:30-4 p.m. and another from 6-8 p.m.
Students have been planning the winter fund-raiser since the beginning of the school year and will continue to hold workshops until they reach their target number of bowls.
Jan Cline, a special education teacher at South, has an undergraduate degree in textile design, but doesn't have the opportunity to exercise her love of art very often. Cline came to the workshop to put her creative talents to good use.
"It's fun to do. It's different. It's for a good cause," Cline said, rolling a string of clay between her palms.
Science teacher Kathy Tafe has never participated in the bowl-buildingworkshops before, but appeared to be enjoying herself anyway. She laughed it off when she forgot to line her mold with plastic and it stuck to her clay bowl.
"When you see my bowl you'll know it's my first time," Tafe said.
By 4 p.m., junior Katie Gagne had already made eight bowls. The South student has never taken a pottery class, but she is interested in art, so she figured out how to make the bowls herself.