Visitation centers facing money woes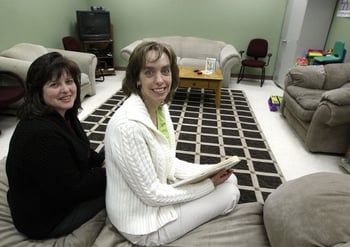 NASHUA – A year ago, the Greater Nashua Visitation Center on Prospect Street was one of seven supervised visitation and monitored-exchange facilities that served the state.
Since then, two of the centers have closed and, without more money, the Nashua center could soon follow.
Last year, administrators at four of the centers – in Nashua, Plymouth, Salem and Keene – learned they wouldn't receive the federal money that traditionally funded them.
Two of the centers, the Salem Visitation Center and Brian's House in Plymouth, closed in January. If it doesn't find another funding source soon, the Nashua center might follow, leaving dozens of families with few good options to abide by court orders dictating the terms of shared custody arrangements, according to the Nashua center's program coordinator, Ann-Louise Petrillo.
"I think it's going to be huge," Petrillo said. "Where are these families going to go? And the kids; what sort of situation are we putting them in?"
Officials have concerns about how the remaining three centers would be able to handle the extra workload if the others close and how parents would be able to access them. The Manchester facility only accepts cases that involve domestic violence, Petrillo said, which would force other families to travel at least to Concord.At best, Petrillo said, it will be an inconvenience for families to get on the schedules at the other centers and then find time to get there on a weekly basis. At worst, parents – some of whom have supervised visits or exchange orders because of violent pasts – could resort to unsupervised interactions at home or in parking lots.
If the choice is no visits at all, Petrillo said, then some children virtually lose one of their parents.
"There are many people who wouldn't see their kids if it wasn't here," she said.
Hundreds of families or estranged couples are ordered by the state's family courts to participate in supervised visitation sessions or to exchange custody of children in a monitored setting.
Petrillo, who worked at the Salem center before it closed in March, oversees the program in Nashua, which provides the supervision for those meetings.
For six years, the Nashua center was funded by a Safe Haven grant from the U.S. Department of Justice's Office of Violation Against Women, for which the state and the New Hampshire Visitation and Access Cooperative applied. The Nashua center received three two-year grants of $78,000 to fund most of its operating costs, according to Susan Stearns, the director of development for the Greater Nashua Mental Health Center at Community Council.
In 2007, the Office of Violence Against Women announced it would fund just three of the state's centers to better allocate the Safe Haven money nationwide, Stearns said.
Co-op members voted to use the federal funds to keep open the centers that saw the most clients, according to co-op President Sarah Allen.
That meant the money would go to the YWCA Supervised Visitation and Exchange Center in Manchester; the Merrimack County Visitation Center in Concord, of which Allen is the coordinator; and Emerge Family Advocates in White River Junction, Vt., which also serves New Hampshire families, Allen said.
Shortly after the vote, the Salem Visitation Center and Brian's House in Plymouth closed.
Allen said it was hard to decide which centers would get the federal money because she expects some families won't find a place if their center closes. Some will, she said, and some will resort to less-structured visits and still others just won't see their children anymore.
"I think a combination of all three things will happen," she said. "Unfortunately, that is a reality for people, that they aren't able to find a good alternative that's also safe."
The Nashua center's last Safe Haven grant ran out at the end of 2008, Stearns said. The center costs about $85,000 to run annually, not counting the administrative help and the free rent provided by the mental health center.
For now, it's running on a $15,000 grant from the Nashua chapter of the New Hampshire Charitable Foundation, Stearns said.
If the Nashua center closes, the 19 families using it for supervised visits and the six families using it for monitored exchanges will have to find homes at the centers in Manchester, Concord or White River Junction.
"It's a critical service for the community, and it's a critical service for kids in the community," Stearns said.
In 2008, the center supervised 241 monitored exchanges and 581 hours of visits to 71 children and 33 families, Stearns said.
And since the Salem center closed and more Rockingham County families are being referred to Nashua, the demand is higher than ever.
There's a waiting list already, and Petrillo said she processes at least 12 new applications a month. "The numbers are going up," she said. "It's soaring."