Utilities Watch: FCC ruling clears way for power-line broadband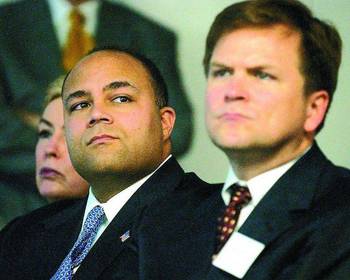 Two important, but not universally popular, steps to promote access to broadband Internet services and encourage new facilities-based broadband platforms have been taken recently by the Federal Communications Commission.
The first step involves rules that will clear the way for broadband Internet service over electric power lines, usually referred to as BPL. The second says regional Bell companies do not have to give competitors access to fiberoptic lines that reach into consumers' homes.
While one step can be seen as clearly promoting competition by encouraging the development of a promising alternative, the other is viewed by some as thwarting competition by denying fiberoptic access to smaller competitors.
"Today is a banner day, and I think years from now we will look back and see it as a historical day for us," said FCC Chairman Michael K. Powell. "This is groundbreaking stuff."
In an unusual step accompanying the FCC action, Powell and Federal Energy Regulatory Commission Chairman Pat Wood issued a joint statement indicating that FERC and the FCC have been examining the technology of BPL and its ability to improve communications and enhance power supply system management. Both agreed that BPL holds great promise for the American public, saying that "ubiquitous broadband deployment is important to the economic, educational, social, medical and cultural welfare of the country."
Powell and Wood urged utilities to "pursue new and developing technologies, such as BPL, that will foster greater customer options in broadband, provide more efficient management of the power supply system and ensure increased operational reliability." They also agreed to monitor experience with access to BPL to "ensure that existing regulations do not stifle the development of this nascent technology."
Although broadband Internet service over power lines is more than a year away from becoming widely available, the FCC's action is part of a push to make BPL a broadband alternative to DSL (digital subscriber line) and cable modem technology.
The FCC's ruling is expected to increase significantly the level of investment and interest by the utilities, which reach more American homes than either telephone lines or television cables. There already have been field tests of the BPL technology in 18 states.
So far, the technology has been limited mainly to experiments around the country, although a commercial version recently became available through Current Communications, which offers broadband service in the Cincinnati area in a joint venture with Cinergy, the Midwest power and energy company. The service is priced at $29.95 to $49.95 a month, depending on the speed.
Interference questions
BPL uses a special modem that plugs in to electrical outlets. So far, it has been offered at speeds of 1 to 3 megabits a second, which is comparable to broadband service over cable modems or conventional phone lines, though not as fast as the 5 megabits a second achievable through the residential fiberoptic lines being introduced by the Bell companies.
An obstacle to the use of power lines to carry communications traffic has been the electromagnetic interference the technology can cause to various types of radio signals. The FCC ruled that it would tolerate a small amount of radio interference in certain areas by the new service in exchange for making the broadband market more competitive.
In trying to address the interference issue, the FCC took steps to prevent power-line access from disrupting important signals, including barring BPL from certain frequencies commonly used by airplanes and excluding services from zones near Coast Guard and radio astronomy stations. BPL providers must provide a public database of complaints from organizations whose signals were corrupted.
While some regulatory and technical issues remain, the technology offers promise, because the power grid serves so many customers. The costs to the industry to offer the new service would be relatively small, while the returns on those investments could be high. If utility companies begin to offer the broadband service more widely, they also would be likely to enter the telephone business by offering phone services over the Internet, just as phone and cable companies have begun to do.
FCC Chairman Powell said that the new technology would not only offer greater competition in the broadband market, but also would allow consumers to easily create networks in their home through electrical outlets. In addition, he noted that adding communications abilities to power lines would permit electric companies to better manage the power grid.
Fiberoptic ruling
Of the FCC's decision to grant BellSouth's request to exempt the Bells from any requirement that they lease their new fiberoptic lines to the home to rivals at low costs, Powell said it would "restore the marketplace incentives of carriers to invest in new networks."
The FCC's decision concerning access to the Bells' fiberoptic lines prompted two of the Bells, SBC Communications and BellSouth, to announce that they would move quickly to build new fiberoptic networks in residential neighborhoods.
So far, the nation's biggest Bell, Verizon Communications, has been the most active in building residential fiber networks. After the FCC decision, however, SBC said it planned to provide 18 million households higher speed Internet services in two to three years, rather than five years as previously announced.
But rivals of the Bells and consumer groups criticized the FCC's action as being anti-competitive and said it would lead to higher prices.
According to The New York Times, Len Cali, a vice president at AT&T, said the FCC majority seems unable to restrain its preference for monopoly over America's consumers, business users and investment.
Mark Cooper, director of research at the Consumer Federation of America, was quoted as saying the decision would tighten the already powerful grip that the telephone and cable companies have on broadband services. nhbr
Doug Patch, former chairman of the New Hampshire Public Utilities Commission, is with the Concord law firm of Orr and Reno.