Unity Homes in partnership with Saint-Gobain subsidiary
Walpole firm will share its components-based construction technology in agreement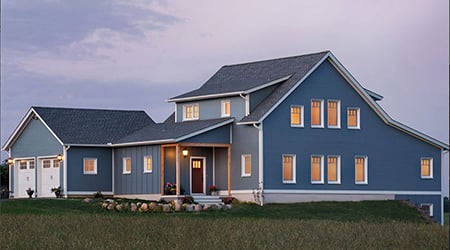 Walpole-based Unity Homes has entered into a strategic partnership with CertainTeed, a building materials subsidiary of Saint-Gobain, with the goal of working together in developing further develop the high-performance home market.
Unity Homes CAD-based digital tools used to streamline and optimize the home design process form the basis of the firm's Open Built platform, which uses a components-based approach to the off-site construction and on-site assembly of its homes.
The on-site assembly consists of approximately 50 precision-built components, is weather-tight in just a few days, and can be ready to move into within six to eight weeks – a much faster process than traditional on-site builds that requires less labor and results in better-quality and better-performing houses, the company said.
The houses can be delivered to almost any site where other prefab/modular homes can't go due to size constraints.
Under the partnership, Unity "will bring their technologically advanced and socially responsible building perspectives to our businesses in North America," said Minas Apelian, director and vice president of CertainTeed and global director of NOVA, Saint-Gobain's external ventures arm. "This strategic partnership will help the teams develop new assemblies and components for high-performance prefabricated homes, as well as evolve the Open Built CAD platform."
According to Tedd Benson, founder and CEO of Unity, "It is critical that we connect the dots between the companies that design and build, and those that make and supply the materials and parts for those buildings. With this joint agreement, we intend to establish the basis for a homebuilding operating system, leading to better industry cohesion and therefore time, quality, and cost improvements for all."