Unique Christmas display opens at Mont Vernon museum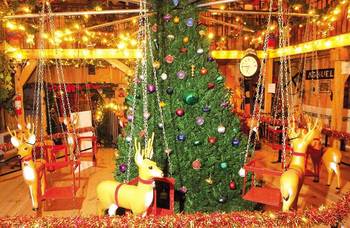 There's no question in Eddie and Beth Gilbert's mind as to why they've spent thousands of hours and hundreds of thousands of dollars over two decades to create the region's most unusual Christmas attraction.
"When they open the door, it is such a cool thing to hear the kids say, 'Wow!'" said Eddie Gilbert of Mont Vernon. "That 'wow' is what makes it fun."
"Sometimes the adults say it, too," added Beth.
The Gilberts own Beaver Brook Farm & Transportation Museum, a labor of love filled with serious historical items such as a half-dozen working locomotives, including what has been the called the nation's best collection of 2-foot-gauge railway items, plus fascinating regional miscellany such as 19th century bottles found during the Big Dig and one of the unique "skimobiles" that used to haul skiers up Mt. Cranmore on a track.
This time of year, though, when families by the hundreds tour the barn-like buildings the Gilberts have erected over two decades, it's the not-so-historical stuff that grabs attention, even from the Game Boy generation.
The eye-grabbing miscellany includes "animatronic" reindeer and elves, a Frosty the Snowman statue who talks to you and sometimes even knows your name, a robotic bear that blows soap bubbles – "Kids will stand and watch that for ages," the Gilberts report – and the carousel that used to be at Benson's Wild Animal Farm, done up as a Christmas tree.
Everything is absolutely crammed into the buildings, creating such a delightful cacophony that you have to be escorted through by one of the two dozen volunteer guides; otherwise, visitors would get lost.
All of this smacks of days gone by, and that's the idea. Beaver Brook Museum, started in 1985 when the Gilberts moved here from Massachusetts with an eye to displaying their various collections, is a long way from the theme-park era.
The inspiration is the Edaville Railroad in South Carver, Mass., a family-friendly museum and entertainment area. Eddie, 52, recalls how the cash-strapped Gilbert family – both he and Beth, 53, grew up in rural Massachusetts – would visit Edaville each Christmas, as a corny-sounding but fun family treat.
Beaver Brook Museum deliberately recreates that feeling, mixing such things as a giant hippo bought from a defunct Seacoast mini golf course with a 1927 Ariel motorcycle, at the time the world's fastest, and re-creations of an old-time general store.
They have items obtained from whaling museums and cranberry-bog museums. Other pieces were bought at auctions where you never know, says Eddie, whether a trunk will contain "rat dung or something really cool," like a pay stub of a New Hampshire soldier who fought in the Revolutionary War.
"We have some whimsy with some history," said Beth Gilbert.
Many displays are illustrated by handwritten notes and everything has been bought, assembled and displayed by the Gilberts or the many friends they've acquired through this unusual hobby. A recent acquisition is a giant Santa statue that used to stand guard at a Route 101A used-car lot. They couldn't resist him.
The museum is amateurish in the best sense of the word – done for love, not money.
And that's a good thing, since it's a nonprofit venture by a long shot. For one thing, they don't charge admission.
"It doesn't matter if you're poor or rich," said Eddie Gilbert, who supports the museum through his equipment business in Massachusetts. "You can have the same excellent time as a millionaire here."
For another thing, the museum is located on a dirt road that even some Mont Vernon residents don't know how to get to. The location helps explain why, even though the museum is unusual enough to have been featured in National Geographic magazine, it is unknown to many longtime area residents.
If there was any doubt that love, not money, drives the museum, it was dispelled after the Gilberts sold everything and closed the museum seven years ago while Eddie fought terminal cancer. He was saved by a then-experimental treatment, and Beth and Eddie promptly went around buying back collections to get the museum going again.
"We said we'd keep it small," said Beth, smiling. "I don't think we did."
Perhaps the best emblem of the museum is a handsome, carved chair where Santa (white-bearded Richard Marshall of Hooksett, who, like all the workers, does it on a volunteer basis) hears children's wishes every Sunday afternoon.
That chair used to be part of an Enchanted Village holiday display at a Jordan Marsh department store, and when Eddie Gilbert was 7 years old he sat on Santa's lap in that very chair during a family holiday outing. He's got a picture as proof.
"Life is so busy now," said Eddie Gilbert. "We try to show people that if they will only take two hours to come up for air, and have a nice quiet day together, peaceful – they'll have fun and maybe the kids will accidentally learn a little."