UNH readies third social venture challenge
Student, community entrants sought for 'idea competition'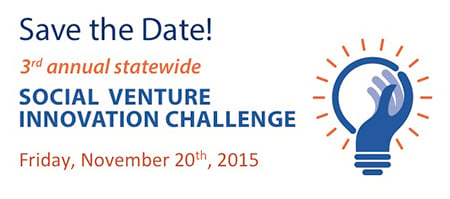 Participants are being sought for the third annual University of New Hampshire Social Venture Innovation Challenge, an "idea competition" that gives competitors a chance to design novel, sustainable, business-orientated solutions to some of society's most pressing social and environmental challenges.
Organized and hosted at the UNH Peter T. Paul College of Business & Economics, The Carsey School of Public Policy, The Sustainability Institute, NH EPSCoR, Net Impact UNH and UNH Innovation, the third annual Social Venture Innovation Challenge asks participants to identify a social or environmental issue – whether at the state, national or global level – and develop a business-oriented approach to solving the problem.
A social venture presents an innovative solution to a defined problem, such as poverty or climate change, facing the state of New Hampshire, region, nation or world. It should aim to be market-based and aspire towards being financially self-sustaining through earned revenues and profits, decreasing after initial start-up the reliance on grants or donations.
A social venture should harness the best of market-based approaches, but have a primarily social rather than financial objective.
The challenge has two tracks: one for current New Hampshire college or university students, and one for New Hampshire residents and any UNH alumni who are, or aspire to be, social entrepreneurs.
Deadline to file an intent to compete is Monday, Oct. 12. Submissions are due by 5 p.m., Wednesday, Nov. 5.
Organizers describe the challenge as an "idea competition" in which big ideas are rewarded. No detailed plans are required for submissions, but rather proposals in the form of a three-minute video and two-page paper.
Entries can be for a pre-launch stage initiative, an existing social venture in the formative stages of development (less than a year old) or a major new social entrepreneurial initiative for an established venture.
A preliminary Round will be judged entirely online by a panel of social venture experts. Eight teams in each track will be selected to advance to the final round, which will take place on Friday, Nov. 20 at UNH in Durham
Cash prizes for the community track are made possible in part by the NH Charitable Foundation and are intended to provide investment to a social venture to help fund its establishment and/or growth. First prize is $10,000; second, $5,000; third, $2,500.
Cash prizes for the student track are provided by Timberland: first prize is $5,000; second, $3,000; third, $2,00. In addition, the winner of the community track will receive 100 hours of consulting from Pixel Media of Portsmouth and the AlphaLoft business incubator will provide it with six months of its Flex membership.
Full details on eligibility can be found at unh.edu.