UNH Professor to head next Wildcatalyst seminar
Dr. Short will discuss the number of spin-off companies he's launched from his research at UNH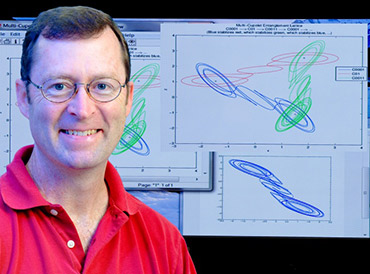 Dr. Kevin Short, professor of mathematics at UNH and founder of Setem Technologies (now XMOS) is the featured speaker for the second seminar in UNHInnovation's Wildcatalyst series on launching research-based startups.
The talk will take place at UNHInnovation at 21 Madbury Road in Durham, on Thursday, Oct. 26 at 4:30 p.m., and will be followed by free beer and refreshments from 5:30 to 6:30 p.m.
In 1999, Dr. Short licensed patented intellectual property developed through his research activity at UNH and started Chaoticom, the university's first ever spin-off company. Chaoticom was acquired in 2008 and in 2012, Dr. Short launched yet another spin-off company called Kaonyx Labs, followed by its affiliate Setem Technologies.
Dr. Short's research from UNH is a foundation for products that enhance voice clarity and audio signals in today's voice and speech recognition products (i.e.-cell phones, headsets, hearing aids, voice-activated electronics). Setem was acquired earlier this year by XMOS.
Dr. Short is a research commercialization trailblazer at UNH. We look forward to learning more about how his business ventures took shape and about the challenges he faced/lessons he learned while launching and selling successful businesses, specifically ones based on university research-born intellectual property.
To register for the event, click here.
Last month, Dr. Wayne Jones Jr., the new dean of the University of New Hampshire's College of Engineering and Physical Sciences, and his partner, Dr. William Bernier, discussed their startup ChromaNanoTech, formed from research performed at Binghamton University in New York.