UNH Law student's brain aneurysm clip wins Holloway Prize
Craig Litherland's CranioVation clip can significantly reduce the cost of treating brain aneurysms and save lives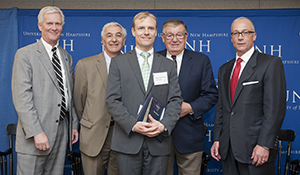 A University of New Hampshire School of Law student with a biomedical engineering background has won this year's UNH Paul J. Holloway Prize Innovation-to-Market competition with his invention of a clip to stop brain aneurysms.
Craig Litherland of Concord won the $25,000 grand prize for his CranioVation, a zero artifact aneurysm clip that can significantly reduce the cost of treating brain aneurysms and save lives.
Under current practice, a surgeon manually places a titanium clip across an aneurysm to prevent it from bleeding. However that clip can cause blurred images on medical scans, preventing accurate diagnosis and treatment. CranioVation solves the problem.
Litherland said he got the idea for the clip after his friend, neurosurgeon Dr. Vijay Agarwal, told him about the need for a clip that would not obscure medical scans. He has been working on the design for a year.
"I was really surprised to win because there were so many good ideas. I was happy just to run the idea through the process and in front of the judges," said Litherland, who said he'll use his $25,000 prize to develop prototypes of the zero artifact aneurysm clip.
Six finalists competed for more than $75,000 in prize money and consulting services.
Second place went to Dry Technology, a technological process that, when applied to any fabric, makes it highly water-resistant, odor-resistant, and stain-resistant without changing the breathability and feel of the fabric. Third place went to SunDensation, a product that converts brackish ground water to potable water using a nonelectric solar system.
Hosted by the Peter T. Paul College of Business and Economics at the University of New Hampshire, the Holloway competition is the oldest business plan competition in the state and one of the first in the nation.