UNH Entrepreneurship Center announces faculty fellows
Program designed to engage faculty, students in innovation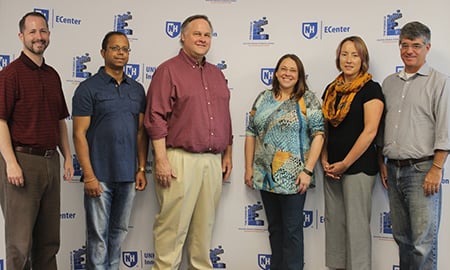 The Peter T. Paul Entrepreneurship Center (ECenter) at the University of New Hampshire has announced its first ECenter faculty fellows.
The ECenter, independently run under the UNHInnovation program, is not associated directly with any one college. Its fellows program was created to engage all faculty and students in innovation and entrepreneurship at UNH.
Named as ECenter fellows were: Matt Davis, College of Engineering and Physical Sciences; Dev Dutta, Paul College of Business and Economics; Kiernan Gordon, College of Health and Human Services; Meg Heckman, College of Liberal Arts; and Jen Purrenhage, College of Life Sciences and Agriculture.
"We are really excited to have the fellows as part of the team," said Ian Grant, director of the ECenter. "Like all good startups, we also need expertise from those who engage daily with the 'customers,' in this case students and faculty, to help us provide valuable and desired tools and resources."
ECenter programs include a startup speaker series, three boot camps centered on networking, marketing and sales; a hackathon; 1:1 coaching; a $10,500 summer seed grant; and a paid internship at startups program. Physical resources include co-working zones at Alpha Loft and the Caffeinator Coffee Bar, both at the ECenter.
For more information on the ECFF visit unh.edu/ecenter.