UNH employs its 3D printers for medical face shields
In Covid-19 response, university effort works to create headbands to hold plastic PPE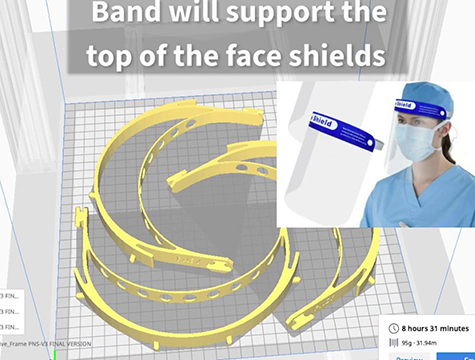 In an effort to support healthcare facilities in surrounding communities and neighboring states, the University of the New Hampshire has fired up 3D printers usually used as teaching tools to help make much-needed medical parts. It also has prepared its recreation facility to serve as a potential overflow space for hospitals focusing on care for critically ill Covid-19 patients.
UNH has shifted into production mode switching over research 3D printers to manufacture plastic headbands that are being used to assemble medical face shields worn by healthcare workers. Over a dozen 3D printers have already made more than 300 of the essential headbands that go around the forehead and hold the clear plastic face shield in place.
"Everyone at UNH involved is really proud to be a part of this effort," said Shawn Banker, director of UNH's University Instrumentation Center. "In the midst of all that is going on, it feels very positive to be able to use our resources to help make something that is desperately needed and will aid the doctors and nurses on the front lines treating patients with the coronavirus. It means a lot to everyone."
Since students, faculty and researchers are working remotely, along with some printers on the Durham and Manchester campuses, many 3D printers were moved to home offices and garages to help with the cause. At present, there are 15 printers being operated by eight UNH staff as well as one UNH alum, all of whom are actively making parts. They are producing about 40 to 50 headbands a day with the hope of increasing that number with more printers.
The UNH printing effort is being coordinated through the University Instrumentation Center, which responded to a request from Portsmouth Naval Shipyard, in Kittery, Maine. A team at the shipyard, which is also printing 3D parts, is attaching the headbands to shields and distributing the assembled masks to seacoast area hospitals and medical facilities in New Hampshire, Maine and Massachusetts and the Town of Kittery in Maine.
Meanwhile, at the request of Gov. Chris Sununu & and the state Department of Health and Human Services, UNH's Hamel Recreation Center has been converted to help with medical needs and used as a potential overflow and quarantine facility in preparation of an anticipated surge in Covid-19 cases. The facility is capable of handling up to 250 patients who have already had medical care at a local hospital but need a few more recovery days before going home, freeing up hospital beds.