UNH-developed app wins $25k Entrepreneurs Fund grant
Provides instant smartphone access to aid survivors of sexual assault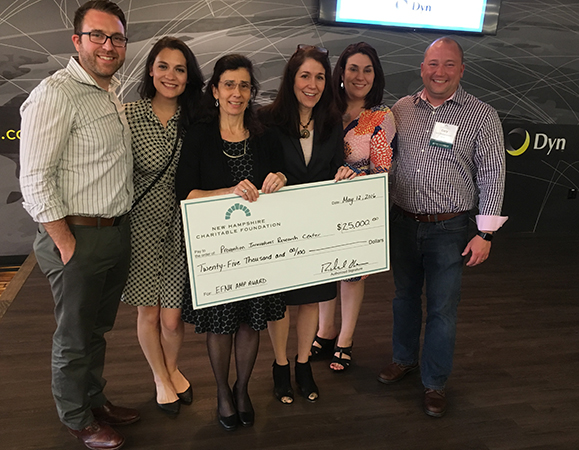 By the fall, students, faculty and staff at New Hampshire colleges will have instant access on their smartphones to localized information to help survivors of sexual assault.
Called uSafeNH, the app was developed by the University of New Hampshire's Prevention Innovations Research Center and students in the UNH-Manchester STEM Discovery Lab.
The developers were recognized May 12 with a $25,000 AMP grant from the Entrepreneurs' Fund of NH after winning a May 12 competition at Dyn in Manchester.
The app uses geospatial technology to provide information on local crisis centers, local hospitals, campus resources and local police. The app was developed in collaboration with the New Hampshire Coalition Against Domestic and Sexual Violence, the New Hampshire attorney general's office and State Police.
The center plans to offer the app for free to all New Hampshire colleges and universities this fall. Eventually, it will be offered for sale to schools in other states, with the revenue from those sales helping to sustain the effort.
Five nonprofit finalists made pitches to the EFNH membership at the May 12 AMP Grant Competition at Dyn in Manchester.
To prepare, finalists were paired with EFNH mentors, who worked one-on-one with nonprofits to help craft engaging and persuasive pitches for innovative projects that delivered an "amplified" benefit for communities. Finalists took part in an afternoon "pitch camp" prior to the final event to help put the finishing touches on their pitches.
This year marks the sixth annual AMP awards. Cross Roads House, an emergency homeless shelter in Portsmouth, was awarded a $25,000 AMP grant on April 28, and the Montshire Museum of Science was awarded $25,000 on May 5.
Since 2011, the Entrepreneurs Foundation has awarded $285,000 to nonprofits serving New Hampshire.