UNH breaks ground on new soccer-lacrosse facility
Privately funded project to be used by university, community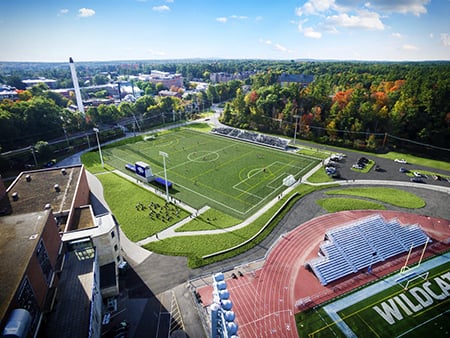 The University of New Hampshire is breaking ground this month on a new soccer and lacrosse facility, privately funded through a second anonymous grant from the Eleanor and Clarence Prevo Fund.
The Eleanor and Clarence Prevo Fund is a donor-advised fund of the New Hampshire Charitable Foundation and was created by donors who wish to remain anonymous.
The new facility, to be built adjacent to Wildcat Stadium on the site of Lewis Field, will be used by UNH athletic teams and the Oyster River Youth Association. The first phase of the project includes infrastructure preparation as well as installation of a state-of-the-art synthetic field, goals, perimeter fencing around the field and team benches.
In addition to the Prevo Fund grants, gifts were made in support of phase one by UNH alumni Mike Pilot, Morgan Rutman, Matt Witkos, Eric Chinburg and Jeff Bergholtz, among others.
The second phase of construction will be determined by future fundraising and the completion of the first phase. It will include field lighting, a 3,000-seat grandstand and storage area, press box with production capabilities, covered team benches and enhanced landscaping. An additional $1.7 million of the total $3.5 million needs to be raised for the second phase of construction.
The project will utilize universal design to create an environment that can be accessed, understood and used to the greatest extent possible by all people regardless of age, size, ability or disability, the university said.