UltraCell Insulation, Near Field Magnetics to Headline Entrepreneur Forum
May 18 event to feature two groundbreaking technologies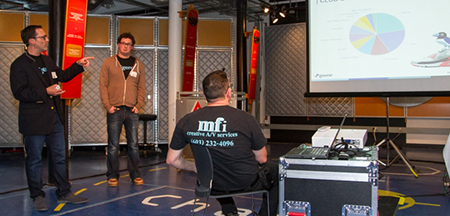 Two New Hampshire-developed products will be in the spotlight at the NH High Tech Council's May 18 Entrepreneur Forum as their inventors look for advice and feedback before launching their new technologies.
Jon Strimling, founder and CEO of Bedford-based UltraCell Insulation and Dave McManus of Milford-based Near Field Magnetics Inc. will share their stories with a live audience and panel of experts beginning at 5:30 p.m. Wednesday, May 18, at FIRST Place in Manchester.
Bedford-based Heat Oracle, a heating fuel sensor that manages storage and safety alerts, is the event's featured "Sky Dive," which gives company founder Louis Treboal three minutes to give a live pitch about his company to the audience.
"Entrepreneur Forum is a sounding board for companies of all levels to get real-time feedback about a product, strategy, growth plan and everything in between," said Matt Cookson, the council's executive director. "It's also an incredible learning experience for attendees who get a sneak peek into what could very well be the next big advance in any given industry."
UltraCell is launching an advanced form of cellulose building insulation with breakthrough performance and cost advantages. The company's product is manufactured from recycled cardboard, and UltraCell has partnered with the nation's largest corrugated recycling plant to launch its product later this year. The company will be represented by
Near Field Magnetics Inc. enables businesses to access and collect data otherwise difficult to obtain because sensors can't communicate through metal, liquid or electromagnetic interference. NFMI's sensor systems collect data and then communicate via magnetic fields. The data is then moved to the Internet of Things (IoT) via standard protocols for use in predictive analytics.
Tickets to the Entrepreneur Forum are $15 for members and $30 for others. Students and student groups, who are encouraged to attend, can contact the council for more information about student rates and group discounts. For more information, click here.