Two multifamily projects win Housing Authority financing
Senior housing in Plaistow, affordable housing for vets in Bedford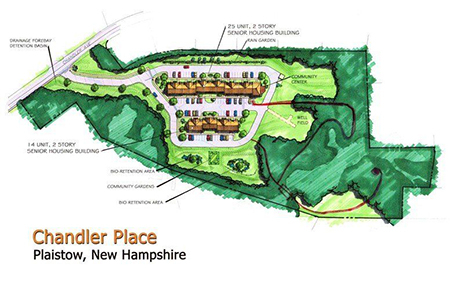 Financing has been approved by the NH Housing Finance Authority for multifamily housing projects Chandler Place in Plaistow and Kensington Lane in Bedford.
Chandler Place includes the construction of 25 units of age-restricted senior rental housing. Among the features of the project will be green building technology in both the structure and the grounds, which will include indigenous plantings, rain gardens and bio-retention basins for stormwater management, and low-impact landscaping.
Chandler Place is the first of a proposed two phase project. When complete, the first phase will include a unit mix of 23 one-bedroom and two two-bedroom units located in one building. The building will be located on an 11-plus acre site at Chandler Avenue within walking distance to shopping, banks, and restaurants.
Kensington Place will feature 41 units of newly constructed affordable workforce housing, of which 20 percent will be targeted to veterans. When complete, Kensington Place will consist of 17 one-bedroom and 24 two-bedroom units located in one building on a three and one-half acre site on Meetinghouse Road in Bedford.
"Southern New Hampshire faces a shortage of rental housing," stated Dean Christon, executive director of New Hampshire Housing Finance Authority. "These two projects will provide 66 units of much needed quality, affordable rental housing for seniors, veterans and families in the southern tier of the state."
He said funding for Chandler Place and Kensington Lane comes from a variety of sources, including federal HOME funds, the state Affordable Housing Fund and federal housing tax credits.