Two foundations team up for job-training initiative
NH Charitable Foundation, Eastern Bank foundation seek to boost scholarships in high-demand industries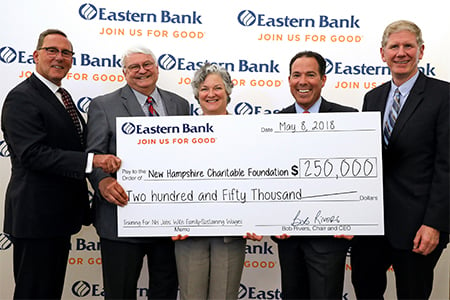 A newly formed partnership between the NH Charitable Foundation and the Eastern Bank Charitable Foundation will mean that hundreds of New Hampshire residents will get scholarships to give them the opportunity to move quickly into high-wage jobs in high-demand fields – including construction.
The initiative, called The Medallion Fund, was formed with a $250,000 grant from Eastern Bank Charitable Foundation as well as matching donations from New Hampshire families. The NH Charitable Foundation said it will be able to nearly double the number of scholarships awarded for short-term education and workforce training over three years.
Awards will be given to students in professional training, certificate programs and two-year degree programs.
"These incredibly generous gifts will give people the opportunity to do fulfilling work that increases their families' economic security and helps them contribute to and sustain New Hampshire's communities and economy," said Richard Ober, president and CEO of the NH Charitable Foundation. "These scholarships are life-changers for New Hampshire families, and will help meet critical workforce needs in New Hampshire."
Scholarships will be awarded to people working to earn high-value credentials in high-demand fields, including traditional trades, advanced manufacturing, financial services, healthcare and information technology.
The program focuses on students who experience barriers to opportunity – New Americans, those with significant financial need, and students who are the first in their families to attend college.
"Without immigration, the population and economy of New England would not be growing," said Bob Rivers, chair and CEO of Eastern Bank. "As they always have been, New Americans are a very significant economic and cultural driver without which the health of our communities would be in peril."
The new scholarship fund is part of the NH Charitable Foundation's New Hampshire Tomorrow initiative, a 10-year, $100 million effort to increase opportunities for young people.
Students may apply through the Charitable Foundation's online application: nhcf.org/medallionfund.