Turbocam founder named N.H. High Tech Council Entrepreneur of the Year
Noronha, who emigrated from India in 1979 with only $6, founded Turbocam in 1985 by leasing time in the early morning hours on computers and machinery owned by other companies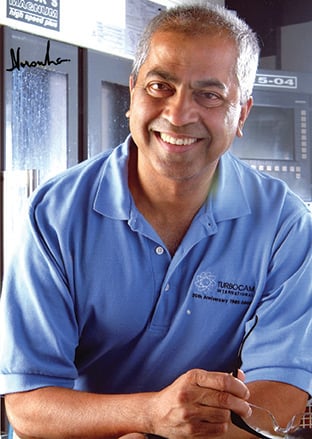 Marian Noronha, chairman and president of Barrington-based Turbocam International, has been named the New Hampshire High Tech Council's 2013 Entrepreneur of the Year.
Noronha, who emigrated from India in 1979 with only $6, founded Turbocam in 1985 by leasing time in the early morning hours on computers and machinery owned by other companies.
Today, Turbocam — a turbomachinery development and manufacturing company that specializes in 5-axis machining of flowpath components — employs 600 people worldwide, with 350 of those employees in the United States.
Since its founding, TURBOCAM has produced products that have been used in the Space Shuttle, rockets, commercial aircraft, industrial air and gas compressors, heavy truck engines, among other turbomachinery applications.
"As our judging panel reviewed all of the impressive applications, Mr. Noronha's commitment to innovation, social entrepreneurship, his employees and the community stood out," said Jim Cook, a member of the council's board of directors and Entrepreneur of the Year committee chair.
Noronha will be recognized at the council's 25th annual Entrepreneur of the Year award event, set to begin at 5;30 p.m., Monday, May 6 at the Radisson Hotel Manchester.
Past Entrepreneur of the Year winners will also be honored during the evening.
For more information about the event, visit NHHTC.org.