Tsunami relief stirs record label to help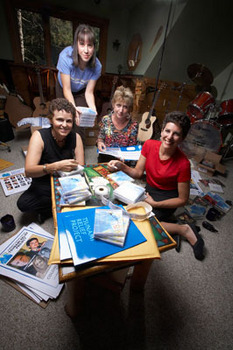 When singer/songwriter Jan Marvel got involved in helping to start a record label six years ago she had hoped it would promote her own music. Never did she imagine it would become a source of aid to people devastated by natural disaster half a world away and a source of comfort to those nearby with a desire to help.
But that is what Atta Girl Records has become.
On May 13, the independent record company based in the central New Hampshire town of Thornton, released the "Tsunami Relief Project," a compilation CD containing 17 songs by 16 artists from throughout the country. All proceeds from the CD's sales and accompanying concerts will be donated to CARE and be used directly for humanitarian efforts in Southeast Asia, which have been under way since Dec. 26, when a devastating tsunami claimed an estimated 250,000 lives and left 12 countries in shambles.
"It was one of those things. It was so devastating to watch," said Marvel, whose song, "Morning Comes," is the first cut on the new CD. "You just feel so helpless. We just said, 'We have to do something. What are we equipped to do? We have a record label. Let's do something with it.'"
The result of that emotional aha! moment is an eclectic collection of folk, world fusion, Latin, contemporary jazz and Americana tunes that blend together surprisingly fluidly.
"You might not think that the songs would work together, but they do," said Randy Roos, fusion-jazz musician, composer and Berklee College of Music professor, who also appears on the CD.
While the compilation is diverse, the music shares one characteristic, according to Atta Girl co-founder Rikki Ramsden, who also works in artist relations: "The one thing all the songs have in common is they all make you feel good. They all have a positive affect on the listeners."
'Immediately compassionate'
The release of the "Tsunami Relief Project" CD came nearly five months after a 9.0 magnitude earthquake hit off the western tip of Sumatra, triggering the deadly wave that took tens of thousands of lives and devastated entire regions of nations.
Within days of watching the tragic event unfold on the other side of the world, all six of the staff and volunteers at Atta Girl vowed to pull together a music collection that would make a difference.
Finding artists to participate in the project was the easy part, said Cherie West, Atta Girl Records volunteer and survivor of a 9.2 magnitude earthquake that hit Alaska in 1964.
"All the artists on the album without exception were immediately compassionate," West said.
Working through the red tape involved with using music from various labels and licensing was a different story, Marvel said, but with everyone sharing in the efforts, the CD didn't just get finished, it got finished in record time. The "Tsunami Relief Project" was launched at a celebratory gathering at Mitch's Family Restaurant and The Acoustic Room in Plymouth, barely 14 weeks after the first phone call was made.
Sales of the CD and T-shirts through Atta Girl's Web site, volunteers and local record stores have been steady. Individual artists are selling the CD at public appearances from here to California, and the group is awaiting approval for international distribution.
Reviews of the CD have been excellent as well.
"Your CD is one of the best I have ever heard," said Derek Sivers, president of the online CD store CD Baby.
A review of the "Tsunami Relief Project" CD appearing on CD Baby, reads in part: "Seventeen shining tracks of pop, folk, world and rock wave in and out for a complete, integrated package of quality music."
The greatest difficulty the Atta Girl crew is having is keeping promotion costs down.
"We want as much money as possible to go to CARE," Marvel said. "But costs for office supplies are so high. It would be helpful if someone out there could donate items or help offset these costs."
Rounding out the project is the concert series, which features artists from the new CD. Most recently, four of the artists — including Marvel and Roos — appeared at The Stone Church in Newmarket. New dates are being added, including the next concert, scheduled for 8 p.m., Sept. 24 at the Colonial Theater in Bethlehem. Artists appearing will be Marvel, Amy Fairchild, Randy Armstrong and Randy Roos as well as bass player Michelle Vaughn and other guests.
As with the CD, all profits from the concerts go directly to CARE. (The Atta Girl team chose to channel proceeds to CARE because 92 cents of every dollar raised by the organization is used for victim aid.)
Officials from CARE have actually endorsed the fund-raising effort, giving the label permission to dress each CD with an official CARE sticker.
"This has been a real feel-good experience for everybody. Everyone, from the musicians to the people buying the CD – everyone helps out," Ramsden said.
While the "Tsunami Relief Project" may be Atta Girl Records' biggest undertaking so far, Marvel and her team are not newcomers to altruistic endeavors. Marvel has also worked to raise funds and awareness for breast cancer, domestic violence and violence against women.
"If you can do something with your music it's so great," Marvel said. "It's so healing."
The project is proving to be healing to the souls who are participating, but might it also prove beneficial for the label. The positive response garnered by the compilation has left Marvel hopeful that a byproduct of their efforts may boost awareness of Atta Girl and the artists who appear on the CD.
"This is a huge landmark thing for our label," Marvel said. "We have really enjoyed promoting the artists that chose to be involved. This just shows, when you do something from the heart, you just can't go wrong."
For more information about the CD or Atta Girl Records, call 726-8980 or visit attagirlrecords.com. For information about the Sept. 24 concert in Bethlehem, call Atta Girl at 869-3422 or visit bethlehemcolonial.org.