Travel industry lures career-switchers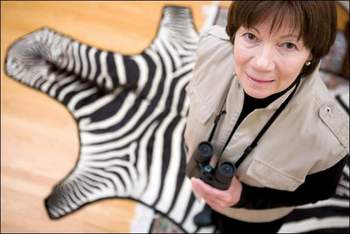 Joan Robinson wishes she could bring everyone she knows, and even those she doesn't know, with her to Africa. "I wish I could expose everyone to it," she said.
Robinson, of Hollis, has been to the continent 22 times and is a professional safari guide, so watching a herd of elephants pass by her tent in the morning and listening to lions roar in the night is just part of another day's work for her.
Robinson says she loves what she does, and she feels "blessed" to be able to follow her passion and get paid for it.
Once a preschool and kindergarten teacher and former owner of The Woodshed stove shop in Hudson, she gave those things up to follow her passion.
Now Robinson goes on about two trips per year. The safaris last between 10 and 14 days and are what she calls "high end."
She and the guests she brings stay in "permanent tents" that are designed to accommodate tourists. Guests eat in dining halls with tablecloths and crystal glasses, and they are driven through the country in safari trucks.
In May she will lead a trip to Kenya, and in the fall she will travel to Tanzania.
Robinson first traveled to Africa with a friend in the 1980s and soon after that began traveling to the continent on a regular basis with a Florida zoo. Robinson was eventually offered a job with a Chicago-based travel company as a guide.
Now she works for a New York company called Classic Escapes. The trips that Robinson leads cost between $4,000 and $8,000 and are all-inclusive.
School for travel
Robinson says it was easy for her to get a job, but not everyone is able to break into the travel industry so easily.
Maryanne Adams, director of the travel and tourism program at New Hampshire Technical Institute in Concord, says some people are naturally able to navigate their way through the travel industry without any formal education, while others aren't.
"I would suspect they must have done a lot of traveling on their own," she said about people such as Robinson who do not go to school for travel and are able to get jobs within the industry.
The technical college offers a one-year certificate program and an associate degree in travel and hotel management.
Many people who are changing careers and have done some traveling already will take the certificate program, she said. Many of the younger students will go for the associate degree.
The school graduates between 10 and 20 students from the program each year. She can also offer a 100 percent job placement guarantee for those who want to work, Adams said.
"I always say the ones who are hungry for the job have no problem," she said.
Susanne Tartarilla, an English teacher at Pinkerton Academy in Derry for more than 20 years, is currently taking travel classes at the college. After reading a book about people who made dramatic changes in their choice of careers without regret, she decided to change her career, as well.
"I asked myself if I could do anything what would I want to do, and I decided to travel," she said.
The 47-year-old Chester resident is willing to give up her summers, she said, and has made it her goal to visit each continent. She recently completed an internship at an AAA travel agency, and she will leave her job at Pinkerton at the end of this school year to pursue a travel career.
"I know in my gut this is what I want to do," she said.
Linda Bucknam of Bow is another travel student at NHTI. Like Robinson and Tartarilla, she worked as a teacher before she decided to switch careers.
Bucknam, 39, has already started her own business as an at-home travel consultant. Her business is called travLBudi and is doing well so far, she said.
Before she decided to go back to school, she was working as a substitute teacher in Bow, and she went to school for education years ago, she said. But decided she wanted to do something different.
"I have always loved to travel," she said. "I went back to school and loved it."
She always made travel arrangements for family trips and enjoyed it. She has five daughters, and there is a tradition in her family to plan a special trip for each one of them when they reach their senior year in high school. She has two more to go.
She went back to school for travel in September 2005 and started her business about a year ago.
She already has corporate clients and makes herself available to help travelers out of sticky situations no matter when they call, even on weekends.
For her, helping travelers can be just as gratifying as helping a little kid learn and hearing him or her say "I did it," she said.
"Now the reward is hearing (her clients) saying we had a wonderful time or thanks for the help," she said.