Transportation group advocates for federal self-driving legislation
Coalition for Future Mobility indicates Sen. Hassan could help move along legislation in the Senate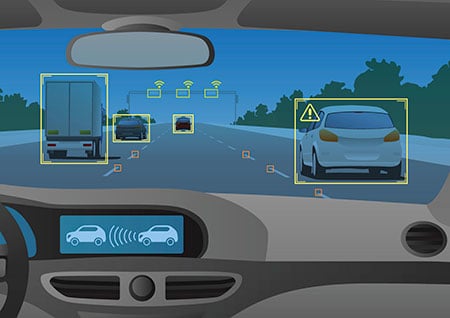 The Coalition for Future Mobility — a group of twelve transportation, passenger safety and consumer interest stakeholders — released a series of press releases yesterday indicating senators that could encourage the passage of federal self-driving vehicle legislation. One of those senators is New Hampshire's Maggie Hassan, who sits on the Senate Committee on Commerce, Science & Transportation.
Late last month, the House Energy & Commerce Committee unanimously passed HR 3388, also known as the SELF DRIVE Act — Safely Ensuring Lives Future Deployment and Research In Vehicle Evolution Act. The bipartisan bill is sponsored by Rep. Robert Latta, R-OH, and Rep. Janice Schakowsky, D-IL.
No action has yet taken place in the Senate, which will reconvene in September.
The House bill would allow companies including Ford, Google and Uber to more easily test as many as 100,000 highly autonomous vehicles on public roads.
Members of the Coalition include: The Alliance for Transportation Innovation, the American Highway Users Alliance, the Association for Unmanned Vehicle Systems International, the Auto Alliance, the Automotive Service Association, Global Automakers, Motor & Equipment Manufacturers Association, the National Cued Speech Association, the National Federation of the Blind, Securing America's Future Energy, Segs4Vets and 60 Plus Foundation.
"This Congress has a tremendous opportunity to accelerate the deployment of automated technologies to save lives, reduce traffic congestion, reduce fuel use and carbon emissions, expand personal mobility and meet our nation's current and future infrastructure, environmental and economic challenges," the group said in a statement. "The list of benefits automation can provide touch every angle of personal mobility. According to the U.S. Department of Transportation, 35,092 people died in traffic crashes in 2015, and 94 percent of all crashes include human error as a factor. Highly automated vehicles and related technologies can help address crashes related to human error."
According to the National Highway Traffic Safety Administration (NHTSA), in 2015, there were 114 fatalities on New Hampshire roads. The New Hampshire Department of Safety, Motor Vehicle Division reported crashes statewide were up 57 percent in the first six months of 2016, compared to the same period in 2015. Fatal crashes were up 52 percent.
But the legislation has raised safety concerns and questions regarding federal and state jurisdiction. Last month, the National Governor's Association, National Conference of State Legislatures, American Association of State Highway and Transportation Officials, American Association of Motor Vehicle Administrators and Governors Highway Safety Association wrote a letter to the bill's authors and chairman and ranking member of the House committee regarding their concerns.
One concern is that the bill "seeks to significantly expand federal preemption of states by moving beyond the traditional definition of motor vehicle safety to encroach vehicle operation and traffic safety regulations that continue to remain under the states' purview," said the letter. Another regards seeking appropriate safety assurances are being conducted and communicated transparently by the NHTSA.
The legislation currently "prevents states and the federal government from requiring a safety assurance from manufacturers and developers responsible for introducing these technologies to the public roadways." And it raised concerns that the 30-day notification for testing highly automated vehicles was too short notice. Lastly, the groups behind the letter voiced concern "with the lack of explicit state representation on the various councils and advisory groups proposed by this legislation. Especially with respect to the cybersecurity advisory council, the sharing of threat information with state government will be a critical component of preventing and mitigating security threats in autonomous vehicles."
In response to a request for comment, Sen. Hassan's office said that "Self-driving vehicles have potential benefits for Granite Staters and Americans, including individuals who experience disabilities and older Americans. However, Senator Hassan also believes that it is critical to fully examine and address the safety and cyber security challenges that may exist with self-driving vehicles before they are integrated fully into the public. As a member of the Commerce, Science, and Transportation Committee, Senator Hassan will continue working across party lines to address these issues and will closely review the Senate version of this bill when it comes before the Committee."