Training in city for emergency teams, medical corps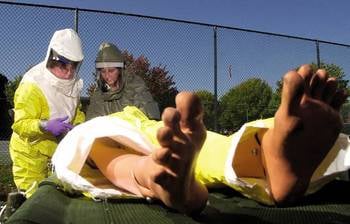 NASHUA – Chuck Hemeon is used to hectic situations like the one he encountered at the Crowne Plaza Hotel on Thursday afternoon.
"It's always chaos," he said. "We try to organize it."
The situation he helped organize involved about 28 Nashua high school seniors screaming and pretending to be injured and in shock during a training session for Greater Nashua Medical Reserve Corps volunteers, as well as community emergency response teams from as far as Nebraska and Maryland.
Medical reserve corps and emergency response teams are federal programs established in the aftermath of the Sept. 11 attacks, for volunteers to serve their communities in the event of disasters or emergencies.
Hemeon, a Plaistow resident, has been a paramedic for 20 years and an emergency educator for about 15 years.
During the exercise, he and about 10 other trainees were sent to help the students pretending to be injured after a bomb exploded at a rock concert. The drill took place in a field behind the hotel and lasted about a half-hour.
The trainees' task was to enter the simulated scene and figure out the severity of each person's injuries. There were also dummies strewn around the area with descriptions of their injuries written on their chests, which the trainees also needed to respond to.
Those with minor injuries were told to stay together in one area until others with more life-threatening injuries could be treated. However, the students had been coached to act like those in real-life emergencies, so they tended to wander back into the situation to try to help other people or ask questions about what was happening.
Those who were not likely to survive were left to be tended to after those with severe but treatable injuries, some of whom were carried on stretchers to another area.During the exercise, a mock explosion went off and the trainees had to leave the screaming patients until instructors told them it was safe to go back.
Yuri Millo, who also participated in the drill, has seen his share of emergencies while working as a rescue physician in Israel. Millo now lives in Washington, D.C. and works at the Washington Hospital Center.
The drill was "very beneficial," he said.
"It was so helpful having the students," he said, adding that it was much more realistic than just using manikins.
Millo said the drill should not be compared to reality, and added that in situations he has been in, there has been a lot more noise, a more constricted area and many more emergency medical personnel on the scene.
The students who volunteered to help with the drill were health occupations students from both Nashua High School North and South.
One of those students, Jennifer Torres, was happy to be a part of the training.
"We are learning how people handle real-life situations, and also who needs to be treated first," she said.
Torres had minimal bumps and bruises during the drill, and she screamed and called for help for more seriously injured patients.
Alderman Marc Plamondon also participated in the drill, using a bullhorn to weed out those with minimal injures and gather them together in a separate area.
"If you can hear my voice and you can walk, then walk this way," he said.
Thursday was Plamondon's third day of training, and he attended the first basic training session Tuesday with fellow Alderman Kevin Gage. In all, there will be four days of training at the hotel this week.
The instructors came from the Medical College of Georgia, the University of Georgia, the University of Texas Southwestern Medical Center at Dallas, and the University of Texas Health Science Center at Houston.
There were three other hands-on training drills Thursday, where trainees administered smallpox vaccines and learned how to distribute drugs at the scene of an emergency, how to put decontamination suits on themselves and other people, and how to cut the clothes off and decontaminate a person who has been in contact with toxic substances.
There was also an exercise that involved computerized dummies that had their legs crushes by a large object, and in a different scenario, had contracted the Ebola virus. The dummies could talk, cough, simulate breathing, and have their blood pressure and all other vital signs checked.
The training was paid for by a grant from the New Hampshire Citizen Corps Council. About 60 people participated in the first day of training, while 50 trained the second and third days.
Dr. Joseph Sabato, medical director for the city's Division of Public Health and Community Services, said many public health employees participated in the training, along with Rockingham Ambulance employees and medical reserve corps volunteers from the area.
People from six other states also took part in the program, which was the first of its kind to be offered in New Hampshire.
"Most of these folks have never worked together before, so it will be just like a real disaster," Sabato said before the training began.