Trade group fired up over smoking ban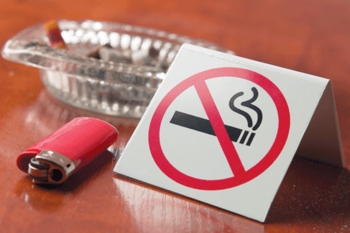 This legislative session, unlike last, the New Hampshire Lodging and Restaurant Association will lobby against a complete smoking ban in restaurants — but how its membership actually feels about the matter is anybody's guess.
The issue has not only divided the public, but also split an industry in which more and more restaurants are banning smoking anyway, as the association's change of position from one year to the next attests.
Smoking is already restricted in restaurants – at least those that seat more than 50 people — but it is allowed in lounges, as long as the smoke is segregated from the rest of the establishment, as well as in smaller restaurants.
Increasing publicity about the dangers of secondhand smoke convinced many lawmakers to support a complete ban, not so much because of its effect on customers but on the waiters, waitresses and other employees who are exposed to it all day long.
In the summer of 2005, the association surveyed its membership about the issue. Nearly seven out of 10 of the small number that returned the survey favored the ban. Still, people on both sides were so "passionate" about the issue that the association decided to remain neutral, according to Dicky Desai, chairman of the association board and the owner of the Hill-Brook Motel in Bedford.
The bill wound up being passed by the House, but opponents manage to kill the bill in the then-Republican-controlled Senate, 12-11, in a roll call vote that was brought up repeatedly in the November elections that swept state Republicans from power.
But it also was a contentious issue among association members, who criticized the organization for its inaction on the issue.
"There was quite a bit of ridicule for us not having a position," Desai said.
So in the summer of 2006 the association board voted not to survey its members. Instead, it held three forums over the summer – in Conway, Concord and Portsmouth – which resulted in "overwhelming" sentiment against the ban, Desai said.
After a close vote, the board decided to oppose it, but it will face a different leadership landscape: Those who opposed the ban are now in the minority. This time the bill's prime sponsor is Sen. David Gottesman, the Democratic chairman of the Senate Commerce, Labor and Consumer Protection committee, which had scheduled a Feb. 13 hearing on the bill.
Split decisions
Like members of the public, some restaurant owners are still passionate about the issue, even though it is a lower legislative priority for them than the size of the tourism budget and a hike in the minimum wage for tipped workers.
Shawn Joyce, chief executive officer of the Margarita's restaurant chain, which is headquartered in Portsmouth, calls the association's position "ludicrous."
Last summer – alarmed at a surgeon's general's report on secondhand smoke – smoking was banned at all of Margarita's restaurants. Joyce was particularly concerned about "16- or 17-year-old kids" working in their first job, who not only don't have a choice as to where to work, but don't feel they have to make one.
"They think they are invincible," he said.
A state ban on smoking in restaurants not only levels the playing field, he said, "it is the right thing to do."
And he thinks the majority of restaurant owners agree with him. Convinced that the 2005 survey was no fluke, he was willing to spend his own money to pay for an independent survey of the association membership on the issue.
"A handful of people who show up in the middle of the summer is not a true representation," he said. Besides, "When the leadership goes telling people how bad bans are, they are going to agree with you. You get back what you put into it."
But Desai and NHLRA Executive Director Michelline Dufort defended the forum process.
Dufort said that that a "roomful" of members – not just a "handful" — attended. And Desai said that he was open to all viewpoints, which were solicited before he gave his own.
Besides, surveys can also be unrepresentative, contended Desai, especially if less than 10 percent of the 700-plus member returned them, which – without giving exact numbers – both Dufort and Desai say was the case.
However, the board rejected Joyce's offer to pay for a more scientific survey. "We don't have to take a poll before we take a position," Desai said.
"The board felt that a survey didn't allow face-to-face feedback," added Dufort. "It allows for greater discussion than a blind survey. We wanted to go deeper with our members."
'Enough is enough'
The NHLRA board isn't alone in changing positions. Individual members have as well. Tom Boucher, owner of the T-Bones and Cactus Jacks restaurants, admits to changing his mind on the issue three times.
At one point, he supported the ban to level the playing field, to enable restaurants to go smoke-free without potentially losing his customers to competitors. This he might have experienced firsthand when smoking was banned in his Bedford T-Bones.
While most patrons approved of the change, some 20 percent "were extremely upset with us and still are," he said. Business went down, though it's not clear whether it was from the smoking ban or competition from some newly opened nearby restaurant chains. While business is back up, Boucher has come around to opposing the ban again.
Part of the reason is increasing government regulation in other aspects of the business. A bill this session to ban trans fat from restaurants is only the latest example. He also has heard of bills in other states that could restrict salt or put more regulations on the sale of alcohol.
"Enough is enough," he said.
Customers have a choice as to where and what to eat, and he should have the very same choice as to what legal products to allow in his restaurants, said Boucher, who also argued that employees have a choice. They could work either in a smoke-free section of the restaurant, or a smoke-free restaurant, "or find another career."
Boucher's latest property will exemplify that choice, he said. He plans to build a T-Bones and a Cactus Jack in the very same building on Union Avenue in Laconia. The T-Bones will be smoke-free, and the Cactus Jack's would allow smoking.
"That way I'm going to capture 100 percent of the market," he said. "I was very happy to be able to make the decision to do both."
That in a way sums up the logic of the board's latest position.
"The association wants the freedom for our members to decide when and if we want to go non-smoking based on our customer's needs," Desai said.