Tractor-trailer carrying explosive gel rolls over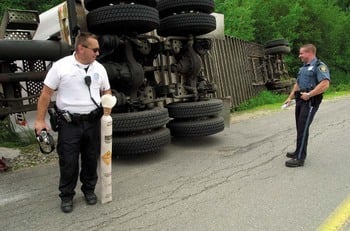 LONDONDERRY – A tractor-trailer packed with 40,000 pounds of explosive blasting gel tipped over on Auburn Road shortly before 12:30 p.m. Monday.
It wasn't as dangerous as it sounds, police said.
"It's very safe to transport. It can only be set off with blasting caps," and there weren't any of those on board, police Lt. Scott Saunders said. "You could pound on it with a hammer, and it wouldn't explode. You could set it on fire and it would just burn, it wouldn't explode."
On the other hand, Saunders said, if by some fluke the load did explode, "We'd all be vaporized, without question."
As a precaution, and to allow plenty of time and space to clean up the wreck, police closed down a stretch of Auburn Road from the Brook Hollow Sand and Gravel pit near Longwood Avenue north to the Route 28 Bypass.
The truck's driver, James Mooney, 45, of West Virginia, suffered minor injuries and was taken by ambulance to Parkland Medical Center in Derry, police said.
Police were investigating the cause of the crash, but said they don't believe any other vehicles were involved. The red Kenworth truck was heading north when it veered off the pavement while rounding a leftward curve, then tipped over as the road's shoulder changed from soft sand to marsh.
There have been three similar accidents in the last six weeks in which large trucks tipped over after veering onto the shoulder of Auburn Road, Fire Capt. David Spahn said.
"These roads weren't made for large vehicles," he said.
The crash tore open the front, top end of the trailer, and some of the tubes of explosive slid out, allowing police and reporters to peek at the contents.
The truck was hauling 2,000 20-pound tubes of Emgel blasting agent, an explosive made by Mining Services International in Ashford, W.Va., according to the packaging.
Four workers from Green Mountain Explosives of Auburn – a subsidiary of Mining Services, according to the company's Web site – came to carry the tubes by hand into another truck.
Mooney was driving for Green Mountain Explosives, police said.
The tubes typically are used for busting up rock ledge. Explosives experts drop the tubes into holes drilled in the rock and attach a blasting cap for detonation, according to police and a Green Mountain employee.
Police expected that Auburn Road would remain closed until late Monday evening, Saunders said.
There are no homes or businesses along that stretch of the road, Saunders said, although the truck tipped within a major league stone's throw of the west side of Whispering Pines mobile home park.
State highway enforcement accident investigators came to help Londonderry police investigate the cause of the accident, and firefighters and an ambulance stood by at the scene, though perhaps too close to do any good if the worst came to pass.
The amount of explosives in the truck was roughly 10 times the amount used in the Oklahoma City bombing, state Highway Enforcement Sgt. Steve Hanley noted.
"It's very stable," he said, "but there's an awful lot of the stuff."