Towns talking about today's big game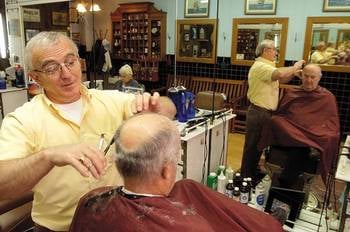 Unless a blizzard closes the highway, there should be hundreds of drivers jamming Boston Post Road in Amherst this afternoon as the region's most intriguing football rivalry takes center stage, but former coach Reed Panasiti won't be one of them.He's walking.
Or maybe something even better: "My wife suggested we take the car down to the school tonight and leave it there, so we'll have it ready (when the game's over)," he said in a Friday afternoon interview.
Panasiti has an up-close look at the rivalry between Milford and Souhegan high schools: Aside from the fact that his now-graduated son once played football for Souhegan, and that Panasiti coached the freshman team, he also owns Homestead. This deli and convenience store is just up the road from Souhegan High, and is swamped by teens at lunchtime and after school – and, this time of year, after football practice.
"They're all excited, and excited to be playing Milford," he said. "It's a great rivalry because it's not a bitter rivalry, it's a friendly rivalry."
But when you're as close to Milford as Panasiti, you can't be too partisan: The banner outside his store says, "Congratulations Souhegan/Milford Division III football."
The names should really be the other way around, he said, since Souhegan is the home team for the Division III state championship game – but Coca-Cola, which made the banner as a promotion, got it backwards.
The game carries a special connotation because until Souhegan was created in 1992, Amherst and Mont Vernon kids went to what was then Milford AREA High School, or MASH. Memories of the sometimes acrimonious split still linger for adults, although not necessarily for teens who were in kindergarten, if that, at the time.
"The rivalry part is too much in the past to mean much to the kids," said Chris Worcester, a 1980 graduate of MASH. "I think it would probably be the same for the kids if we were playing Hollis or somewhere else nearby."
Perhaps for that reason, as big as the game is here, nobody can say it is sweeping two communities that have grown bigger and more diverse over the years.
More than a dozen lunchtime interviews Friday in restaurants and stores around the center of Milford and Amherst found a perhaps unsurprising pattern: The game generally has little impact for those without kids in or near high school age.
"No, I haven't heard much (talk) about it," said Kevin Stephens, owner of the Union Street Grill.
It's certainly not, he agreed, anything like the recent sports-watching craze involving the Red Sox.
"Oh, no!" he said, adding the restaurateur's perspective on the region's World Series craze. "It killed business . . . nobody would get up in the morning (for breakfast); they'd stayed up too late watching!"
At Moulton's Market on the Amherst common, several people in the lunchtime crowd getting sandwiches and groceries knew the Milford-Souhegan game was happening, but none said they were planning to attend.
On the opposite side of the spectrum, though, is Dick MacDonald of Dick's Barbershop on the Oval, who was not only looking forward to the game but had a long-term idea.
Now that Milford and Souhegan are in the same division, he said, "I think they should turn it into a Thanksgiving game," creating a tradition like Nashua's Turkey Bowl.
Whether that happens or not, it's still likely that Saturday's big game will have an effect even on those who don't attend. Just ask Donna Sammonds of Milford, who works for The Telegraph.
"I'm looking forward to it," she said. "Everybody will be at the game so there won't be any crowds at the transfer station!"